Sometimes servers misspell the customers' names, but one server decided to blatantly describe the customer with a derogatory and racial term for Asians, "Ching Chong".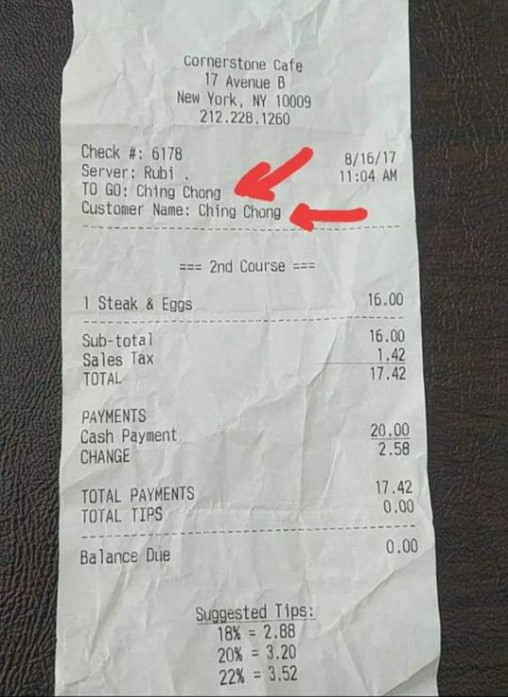 This incident occurred in Cornerstone Cafe in New York, New York.  An Asian customer entered the premises to order a meal and once she received her receipt, she was shocked that the server labeled her as "Ching Chong".
The customer wishes to remain anonymous and she simply wishes for a public apology in behalf of the server and restaurant.  Bringing awareness to this issue, a friend of the customer, Ziggy Chau, posted on their Facebook page, asking friends to boycott the restaurant.
"This just happened to my friend's mother…right here in NYC!! Please boycott this place Cornerstone Cafe NYC until they publicly apologize. Better yet, call them directly and let them know they have a racist staff. Racism has no place ANYWHERE. Asians friends—– speak up for ALL… not just when it affects you, please. Can you please share this to your page? Hate to get political but in light of what is happening here in the USA and our current president seem to make it ok to come out and be blatantly racist."
The anonymous victim did not want to perpetuate the problem, so Chau called in to speak with the manager.  She explained what had happened and the manager, Rocco, insisted on knowing the customer's name.  Whether or not he had knowledge of the name of the victim, the server ultimately used an unacceptable label.  The manager proceeded to justify his employee's actions by stating that the server misheard the name.
Second Update by Chau:
"***UPDATE*** 7PM
My friend didn't want to make a big deal of it. I just took it upon myself to at least call the restaurant and speak to the manager and let them know this happened. I explained the situation to the manager by the name of Rocco who then proceeded to ask me so what is the customer's name then? I said irregardless, the receipt said Ching Chong, a derogatory term for Asians. He made an excuse and said maybe the server misheard the name. I said the receipt is being shared on social media and his restaurant should respond to it. I asked him to issue a public apology on their social media channels so we shall see what happens. 
I am sure not everyone that works there is racist. I don't want innocent people to lose their jobs but it is NOT ok to think it is ok to mock and be bias to people that are different from them!!! 
This is not about being petty or overly sensitive…this is about speaking up when it matters, especially as Asians."
After making addressing to the manager, Rocco, that this is spread on social media, the manager of the restaurant issued an apology:
https://www.facebook.com/cornerstonecafeeastvillage/posts/1423197341109495
"Hi I am Rocco I run Cornerstone Cafe I need to apologize to everyone about the situation that happened at Cornerstone Cafe. I asked many Questions to come up with bottom of the situation. I came up with the conclusion that this is not acceptable. 
Anyone who knows us or what we are about, knows that we are not racist and that we care about people and their feelings . I do not have any words. Todays situation left me speechless.
Let me clarify that it wasn't Ruby it was another girl who wrote the order to go, under Ruby's number. When I asked why? I got the answer the ticket was opened on the pos system so she just punched it in. That is no excuse .
This situation leaves me no choice than to terminate this employee for this unjustified act. 
It definitely does not reflect the way the Cornerstone staff or I think because of one individuals stupidity.
As manager I still take full responsibility and I humbly asks for forgiveness to all who got offended , but most of all to the person who's heart was broke and made sad today. This deeply grieves me. Anyone who knows me and the staff knows that our main role everyday is to see people enjoy themselves and to leave Cornerstone happy. And that we are not racist to anyone. I really love everybody.
This act is not acceptable and I thank you for bringing it to my attention. This behavior will not be tolerated . 
Again please accept my apology from my heart and from the rest of the employed staff at Cornerstone Cafe.."
Unfortunately, one employee may affect the entirety of the establishment.  Hopefully the employee who used this racial and offensive term will realize racism is looked down upon in society.
Written by Jenn