Taiwanese fanboys are upset with this cosplayers rendition of Hestia from Damachi, find out why. 
The fanboy community is a loyal albeit picky group. Their devotion to the finer details of their beloved franchises is well documented as being..well.. FANatical. So perhaps it is to no one's surprise that a recent cosplayer from Taiwan, Ma You Rong set off an internet wildfire after her depiction of Hestia from the popular anime Damachi was less than 100% accurate.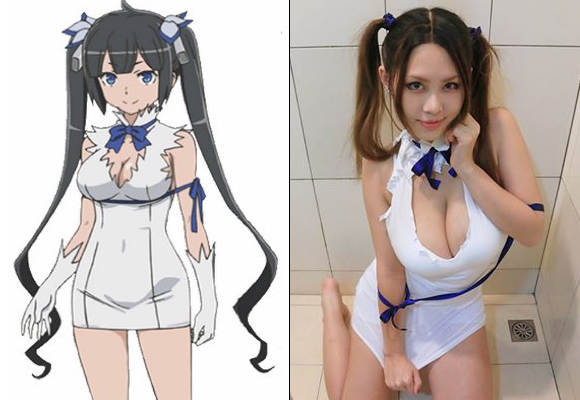 Now for our non-nerds anime fanboys readers out there, Hestia is a character from Damachi, an anime when translated to English means Is It Wrong To Try To Pick Up Girls In A Dungeon? The character is well known for her… ample attributes(boobs) and her particular character design which sees her with a ribbon tied around her torso and arms.
The latter which is what has caused much of the online controversy. Many Taiwanese fanboys have blasted Ma You Rong's Facebook where she posted her cosplay pics for not being 100% accurate to the character. Many have pointed out her lack of white gloves, use of wig to achieve a similar hairstyle, and untying the ribbon most associated with Hestia.
To her credit, Ma You Rong has not let the criticism get her down. In true "haters gone hate" fashion Ma You Rong has posted a response on her Facebook as follows:
"It's thanks to extreme groups of people like you haters that people are scared away from cosplaying. If you actually love cosplay, then don't press your opinion on others. Everyone is free in the world of cosplay, and their opinion of what cosplay should be doesn't have to be the same as you."
So there you have it folks, a young busty copslayer provides some fan service by dressing up as a scantily clad anime character and the first thing the internet fanboys do is complain that she has no white gloves on. That's the world we live in now everyone.
More from Asian Babes
---
1.7K
Another photoshoot by Jeff Fernandez, one of our resident Amped Asia photographers. Christine Luu is a hottie with a body, …
3.9K
The city of Dallas is a major city, but not usually as glamorous as cities like L.A. or New York. …
6.7K
One of Boston's finest has just moved to LA. We got to shoot her and her super flexible body. Check …