In a now deleted Tik Tok, Soo Youn Lee uses racial stereotypes to justify why she doesn't date Korean men. In the original video she made the excuse of Korean male misogyny, how they're "too" traditional, how Korean men expect their women to do everything, and how she saw her dad get treated by her mom.
However, she made a comment on Instagram's Threads that she deleted the Tik Tok because she was receiving death threats and a lot of negativity.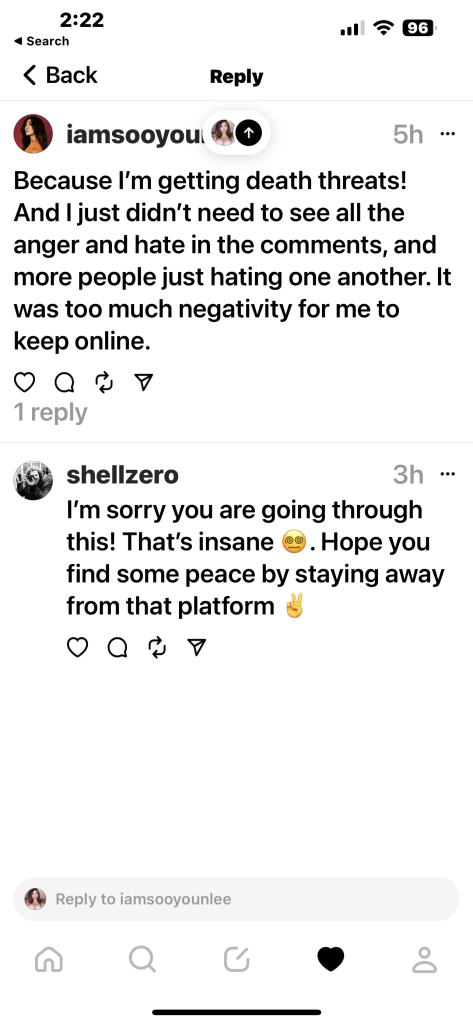 Here at Amped Asia we absolutely don't condone the death threats for starting a discourse, we just think it's a discussion that needs to be covered and responded to. If you're one of the people doing this, shame on you, as this is not what we need as a community.
However, it is important to remind the community that when they make videos like this generalizing a race of men, it is quite harmful and can really create a lot of issues.
In this example, Soo Youn Lee, don't seem to realize that these traits are common with a lot of cultures. Which was ironically pointed out in her comments section where tons of women of all races said something along the lines of "As an arab woman, I can totally relate to this…" or "Same with Black men" among others.
One relevant comment mentioned: "It's as if this isn't really a Korean thing…"
Another relevant comment mentioned how she's just using this as a justification to date interracially, and that it's always white men who are excluded from the misogyny label, while POC men are always cast as misogynists.
Soo Youn Lee also admits to dating conservative Arab man herself, as pointed out by this Tik Tok by JT Tran.
In addition, the internalized racism aspect has been discussed with posts by Izzy Eternal and other Tik Tokers.
What we don't love is that this creator loves using her Korean background as a basis for her content, while also justifying her internalized racism against Korean men by discussing tropes that are present in pretty much every culture of man.
While at the end of the day it's just one person's opinion and everyone's allowed to have an opinion, it's also important for Soo Youn Lee and other creators to realize that if you want to give an opinion, you also have to face the backlash when the Internet responds and tells you why your opinion is more than flawed.
It's also important for the Internet to respond in a way that is non-threatening, but just brings forth the opposite side of the dialogue.
Written by Editorial Staff