If you're like any other man, at some point in time you've probably asked yourself what you can do to impress women.
You know that you could land a good job, get a better car, join a gym, or take a few pointers in how to talk to women. But if you're like most men, you might have overlooked the very first thing a woman will notice when you approach her:
Your style.
Clothes make the man. Successful, charming, and attractive men rarely look like hobos who camp out under bridges. Before you even open your mouth, a woman has looked you up and down and decided whether or not she's attracted to you, and your style is a huge part of that. But if you haven't given yourself a wardrobe overhaul since you graduated from college, you're going to start looking like that hobo and losing points with the ladies. It's time for a change.
But before you go out and spend your hard-earned cash on the clothes that make a statement about you before you make a statement about yourself, check out these ten style tips for Asian men and avoid wasting money on a fashion disaster.
1) Buy decent quality clothes.
Most Asian men make at least one of several cardinal mistakes when buying new clothes, but we'll get to the rest of them in a moment. For now, let's talk about the most important – quality. It doesn't matter how well your clothes fit, how incredible the color is, how fashionable they are, or how perfect your outfit is if it looks like you made it out of a burlap sack. Cheap t-shirts from Target are great for washing your car or going to the gym, but the fabric is thin and wears out quickly. Who wants to look like a frat boy forever? If you want to excel, you don't, but unfortunately a lot of Asian men are too eager for a bargain to hunt beyond the bargain bin; it's like we're genetically predisposed to want to pay as little as possible. You don't have to spend a million bucks to look like a million bucks; just make sure your clothes are well-made and made to last.
2) Invest in a good vest.
Every man needs to own a suit – period – so I'm just going to assume that you already own one. But do you have a vest? Vests are excellent options for more formal occasions, but they can also be worn over a t-shirt to dress up a casual event. It's a quick and simple way to take your outfit one step above everyone else. And for the Asian man who is often more slender than his American counterparts, there's an added benefit: vests can give your slight frame a more masculine shape. Think about it, what's great about a woman in a corset? It emphasizes her hourglass figure and makes her waist look smaller. What's great about a man in a vest? It emphasizes the "golden triangle" of his torso (think Superman) and makes his shoulders look broader.
3) Befriend a tailor.
Tailor, tailor, TAILOR your suits! A suit that is too small is only going to make you look fat and broke, even if you're not. A suit that is too big makes you look like you've hastily purchased it for your upcoming DUI hearing. Many Asian men who lack the cheap gene make the mistake of thinking that if they purchase an Armani or a Brooks Brothers that they've got it made, because money is money and money is king. It's great if you can afford that kind of top-notch quality, but if it doesn't fit, you'd have been better off at Sears. A good tailor can shorten a hemline and make short men look taller. He can also cut suit jackets so they don't fall off your shoulders or adjust the length so it falls at the appropriate level (this can also make you look taller), and he can sew darts into your slacks so they don't bunch up when you belt them because they're one inch too big. Always assume that suits are made to generic sizes and factor the price of tailoring into your clothing budget.
4) Dress for your body type.
It's okay to acknowledge that you're different from everyone else. Maybe you're tall and lanky. Maybe you're short and stocky. Maybe you've got broad shoulders and rippling chest muscles. But the same fashions won't work as well on you as they will on other body types. A lot of Asian men, for example, tend to have pretty short legs. You can always try the nifty shoe tip I mention below to make you look taller, but you can also alter your style to your height. Wear pinstripes – the vertical striping will help elongate your frame. Wear one color – this will eliminate any breaks in your frame, keep a woman's eyes moving, and make you look taller. Avoid heavy fabrics – these weigh you down and make you look stumpy. If you're unsure, just ask someone who works at the store, especially someone female (she's more likely to be fashionably inclined, and maybe you can get her number).
5) Pay attention to your shoes.
The best outfit will be completely thrown off by ratty old footwear, but good shoes are often expensive, and for the money-conscious man they're often the last thing replaced because he thinks nobody will notice (women notice). If you're wearing dress shoes, shine them; it looks like you've put a lot more effort into your appearance when you pay attention to the small details. If you're wearing sneakers, try to make sure they complement the rest of your outfit; those bright red basketball shoes might look awesome and flashy in the store, but they have no place in your outfit if you're trying to impress a woman. And here's a super-secret tip for my height-challenged Asian brethren: good boots or good dress shoes usually give you an extra inch in height through the heel and sole, but you can also purchase hidden heel supports you can put in the bottom of your shoe to give you another inch or two in height.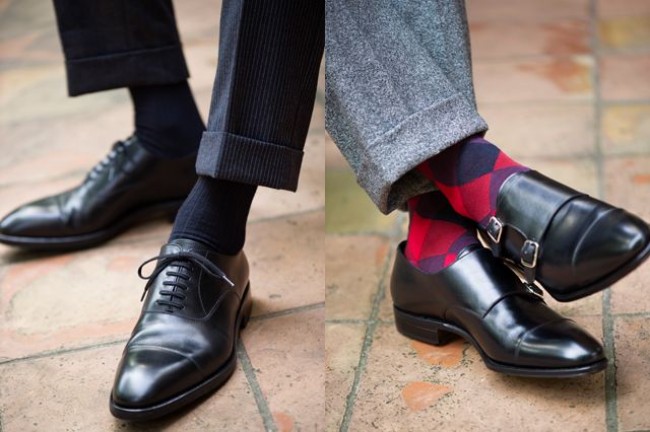 Written by Cindy Young