2) Your Profile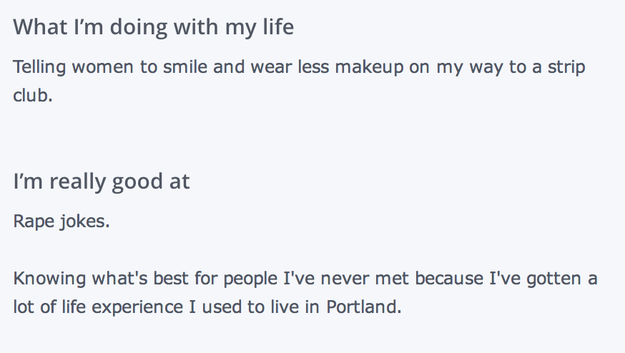 DON'T lie so thoroughly that it looks like you're running for political office. It's tempting to weave a fantasy world where you're more attractive than you think you really are, but that's a disaster waiting to happen. The only thing you're going to end up with are girls you're not interested in trying to contact you, or girls you are interested in finding out that you're not who you say you are.
DO be clear and honest about your passions, who you are, and what you're looking for. If you're a very active and outdoorsy guy, it's probably a good idea to bring that up so that the couch potatoes will keep on scrolling. If you're only looking for something casual, say so, because it's not fair to you or to the girl to string her along and make her think you want something that you don't. It's not necessary to be so brutally honest that you include the fact you wet the bed until the age of twelve, but you'll do yourself a favor in weeding out the girls who aren't your type by letting your profile speak about the real you instead of some fantasy version that you think will work better. It won't. After all, what will you do if you say you love rock climbing and a hot girl wants to take you rock climbing with her, but you've never hit the cliffs a day in your life? What if things get serious with a girl and she finds out you had a child you didn't tell her about? Avoid the trouble by not creating any in the first place.
BONUS POINTS: If it sounds too good to be true, it probably is. You can try all you want to make yourself out to be some kind of superhuman who holds three PhDs, performs in Cirque du Soleil, and de-worms orphans in Somalia, but only the dumbest rock in the box is going to buy that story. By having a profile that comes from an honest place, you'll make a girl feel more comfortable talking to a trustworthy guy like you because she's not going to think you're trying to catfish her.
More from Blog
---
1.7K
The Nintendo Switch has been revolutionary when it comes to portable gaming. It's been such huge demand since its debut …
The Summer 2018 Issue of Amped Asia is here! It's proving to be a super hot summer, and a lot …
4.0K
Kim Mi So is a former model that was nominated for Miss Maxim in 2014 and she dropped everything and …