Miss Vietnam has a swagger that very few Asian girls possess. She's tiny, cute, and extremely sexy, but she also knows how to flaunt her sexuality and handle a very big gun.
Despite how sexy Miss Vietnam is, not very many people could imagine how kinky this girl really is. Miss Vietnam is a "cam girl." Meaning she goes on her webcam and men give her money to do "things." Things that we'll discover in this interview we conducted with her.
It's surprising what men will do when they need to get their "release," and Miss Vietnam helps them achieve that. And it's insane how much money these girls can make and also how perverted guys can get under the security of anonymity over the Internet.
Here at Amped Asia, we have very little knowledge about the world of "camming" but we decided to do a little behind-the-scenes investigation.
Without further adieu, here's our interview with Miss Vietnam.
When did you begin camming and how did you get started?
I began 5 years ago. I wanted to be a model at the time so I was submitting my pictures everywhere. My Free Cams saw my pictures and then they asked me to model for their cam site.
Would you ever want to be a pornstar?
I've done some softcore porn stuff. As far as hardcore, I think about it sometime. I would only want to do it for a month though and then erase that memory from my mind. But I don't think I will ever do that. I want to one day get a real profession.
Can you describe your personality growing up?
I was always slutty, I would always wear skimpy clothes. Even in elementary school I was already constantly horny – I remember always kissing my pillow. I've always been a sexual person so it must have been in my nature. It was a natural thing for me to get on cam and do my thing.
How do cam girls make money?
Some cam girls can make a lot of money just talking on cam. Guys give you money for doing things on video – such as masturbate, take off your clothes, talk dirty, or almost anything. The way I make the most money is I get on cam and I masturbate. I use toys.
It's really good money. For me, I don't even do it that much and I can make 50k per year. The girls who are on cam constantly are making probably 100k or more.
What are some of the more interesting things you will do on cam?
I have tons of different shows. Strip shows. Cum shows. Shower shows. I have shows where I shave my pussy on camera. Dress-up shows.
What's the craziest thing you've done on cam?
When the guy asked me to roleplay as a bear. I had to steal honey from a beehive and fuck my bear pussy. That was probably the craziest thing I did.
Do your friends and family know you're a cam girl?
Yes they do. Everyone knows I'm a cam girl. I don't try to keep it a secret. When I was getting huge checks in the mail my family eventually found out about it. I had some relatives put down my profession when I first started. It was hard for them to accept at first, but when they found out I was making so much money they stopped complaining.
Where do you see yourself in 5 years? Will you still be camming?
Most people don't realize that I'm studying to get a higher degree and that I want my own career. I'll have my bachelors or my masters by then. I probably also won't be camming anymore. So you better take me private now! Haha. I have a dream to get a doctorate or PHD.
Are you currently single?
I am 100% single!
Is it hard to be a cam girl and have a relationship?
Some guys definitely won't like it. It just takes the right personality and someone who is secure enough. I'm always upfront with guys and I tell them that I'm a cam girl. I'm not ashamed of it and I wouldn't want to hide the fact I'm a cam girl.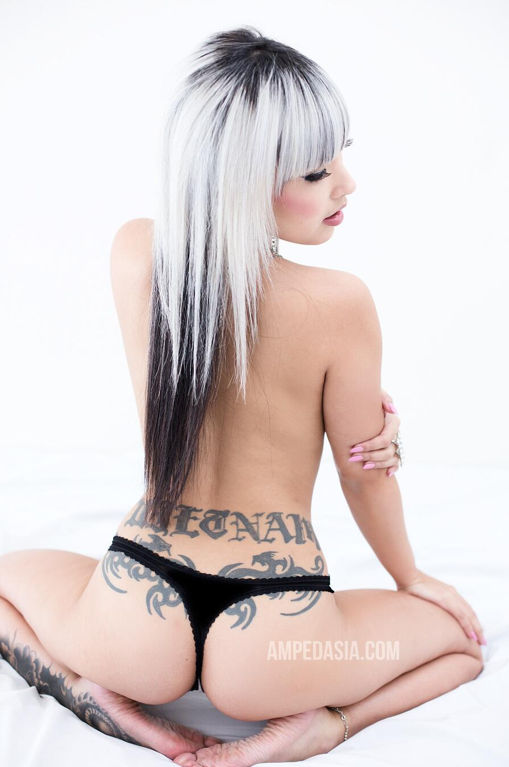 What are your turn-ons and turn-offs?
I like big guys. Guys that are over 30 years old. Tall guys. I like nice guys. Guys who keep it real.
My turnoffs include not getting attention. Lying. But mostly just not giving me enough attention.
What's your biggest sexual fantasy?
My biggest fantasy is to have the UPS guy come deliver a package to my house and then just have him have sex with me =). That fantasy really turns me on.
Want to see more of Miss Vietnam?
Find Miss Vietnam online at MyFreeCams.com (search for Miss Vietnam)
Follow her on Instagram: @missxivetnam
You might also like
---
More from Asian Babes
---
3.5K
The city of Dallas is a major city, but not usually as glamorous as cities like L.A. or New York. …
6.4K
One of Boston's finest has just moved to LA. We got to shoot her and her super flexible body. Check …
4.0K
Kim Mi So is a former model that was nominated for Miss Maxim in 2014 and she dropped everything and …