We take a readers request and answer all you wanted to know about picking up girls anytime ANYWHERE!

"Hi,

I thought an interesting article topic would be "How to approach a girl you see on the street/subway", perhaps by Cindy Young? It's one thing to approach a girl in a bar/club but it's a different game when seeing a pretty girl walking on the street.

Anyway thanks for your time and keep up the great work!

M."
Dear M.,
You're absolutely right that approaching girls on the street and approaching them in a club are two completely different types of game. But before I get into specifics, let's look at why these two situations require different types of game so that you will better understand how to approach women in the day time.
Girls usually go to the club for the same reasons you do. To have fun. Music is pumping, alcohol is flowing, the energy is high, and she's having a BLAST. But here's a universal truth: club girls aren't always the best girlfriend material. They might look absolutely stunning in that slinky little dress, but when the sun comes up you'll quickly realize that artificial energy and liquid confidence have distorted her personality away from the person she is in the daytime. Translation: she's probably not who you think she is.
Once in a blue moon you'll hear about guys who met amazing girls at a club, but for the most part people are only there to cut loose. You escalate quickly with these girls because their high energy demands it. You're not looking to see her again tomorrow, you're taking advantage of the stimulating environment in the club and you're looking for results now.
Girls you meet on the street are more likely to give an accurate picture of who they are, so it is easier to make an accurate judgment call on whether they're worth a more serious pursuit instead of a one night stand. They're calm, cool, collected, and not receptive to sexual approaches because Starbucks is a completely inappropriate environment for random makeouts. Clubs offer refuge and an excuse to let loose, but daytime approaches are under public scrutiny and in her personal space.
So what do you do?
You quit halfway through. Confused? Let me explain.
Club approaches are a one-package deal. You approach, you converse, you build energy, you escalate, and you exit to the bedroom all in one night.
Daytime approaches are a two-package deal. You approach and converse now, you get her phone number, you see her again some other day, and THEN you escalate and exit to the bedroom. Most men fail at daytime approaches either because 1) their energy is too high or 2) they fail to hit the pause button and they attempt to escalate with a girl right then and there.
Here are some specifics:
Approaching
The same basic rules apply. You can either indirectly approach her (perhaps by asking her opinion on Beth's death in The Walking Dead or something completely unrelated to your attraction to her) or directly approach her (by letting her know immediately how gorgeous she is). Direct approaches work better in clubs because they contribute to the high energy, fun environment and girls are expecting to be looked at. Both approaches work during the day, but when using a direct approach you want to avoid the extreme (Damn girl, you're fucking gorgeous!) and favor the gentle (Wow, that dress looks amazing! Hi, my name's M.)
Conversation
Normally, when holding a girl's attention in the club you would begin to escalate by starting small (putting your arm around her shoulders) and graduating to full-blown makeouts. But as a rule you do NOT want to escalate during daytime approaches. This is one of the number one killers for most men. You want to have a pleasant, interesting conversation and that's it. Keep her entertained, make her laugh if you can. But don't touch her except to shake her hand when you part ways. Anything more than that is generally considered socially unacceptable and an invasion of her personal space.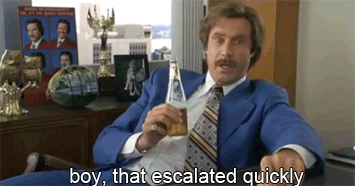 Getting Her Number
When you're at the club, you know you probably have until 2AM closing time to seal the deal with a girl. But in the day there's no guarantee she will stay put. She might be on her way to work. She might need to get somewhere. If she looks like she's wandering around nonchalantly, you probably have time. If she has lots of bags, she probably went shopping and needs to get home. If she's at the bus stop, she's gone as soon as it gets there. You could have five minutes or you could have 50, but you don't know so you'll need to try to get her number quickly. Say "It's been awesome talking to you about _____. I'd love to continue the conversation later over coffee. What's your number?"
BONUS POINTS
There's a nifty little daygame hack called the instant date. Always be aware of your surroundings and the little coffee shops, yogurt bars, and burrito joints around you. When you're talking to a girl and things are going well, she's laughing and smiling brightly, she doesn't look like she's in a rush, you can invite her to join you for coffee or frozen yogurt around the corner, and welcome to your first date! Tell her that it's hot out (or cold) and you know a great little place around the corner where you can relax over frozen yogurt / warm up over a cup of coffee. Tell her that you're a little thirsty and ask her to join you for Frappuccino Happy Hour. If it's between noon and 2PM, say you're a little hungry and invite her to this great Chinese place you know right around the corner. Getting her to go on an instant date with you maximizes your time with her and allows you to build more rapport and more comfort. You still want to avoid escalation, but it legitimizes your interest in her by showing her that you're safe to hang out with, increasing the chances that she'll accept a dinner date later.
TLDR: Approaching girls in the daytime doesn't have to be as difficult as you might think it is without the smokescreen of club energy. Use a low-key approach, don't try to escalate, have pleasant conversation, and ask for her number so you can continue the conversation on another day.
More from Blog
---
1.7K
The Nintendo Switch has been revolutionary when it comes to portable gaming. It's been such huge demand since its debut …
The Summer 2018 Issue of Amped Asia is here! It's proving to be a super hot summer, and a lot …
4.0K
Kim Mi So is a former model that was nominated for Miss Maxim in 2014 and she dropped everything and …