4) Nicole Scherzinger (Filipina/Hawaiian)
Armed with a killer set of pipes, incredible dance moves, tenacious determination, and a last name that would even tongue tie the Governator, Nicole Scherzinger is truly a pop powerhouse. Born Nicole Prescovia Elikolani Valiente* in Honolulu, Hawaii to a father of Filipino descent and a mother of Hawaian and Russian heritage, she grew up in Louisville, Kentucky and was raised by her stepfather whose German last name she would later adopt as her own.
Always the versatile performer, Scherzinger has pretty much done it all. She started her career singing backup vocals for rock band Days of the New, before winning the former WB Network's, now known as the CW, reality music show Popstars, earning a lead vocalist spot in the girl band Eden's Crush. Eden's Crush found reasonable success, but financial troubles eventually dissolved the band, leading Scherzinger to what she is probably best known for to date: leader of the burlesque troupe The Pussycat Dolls.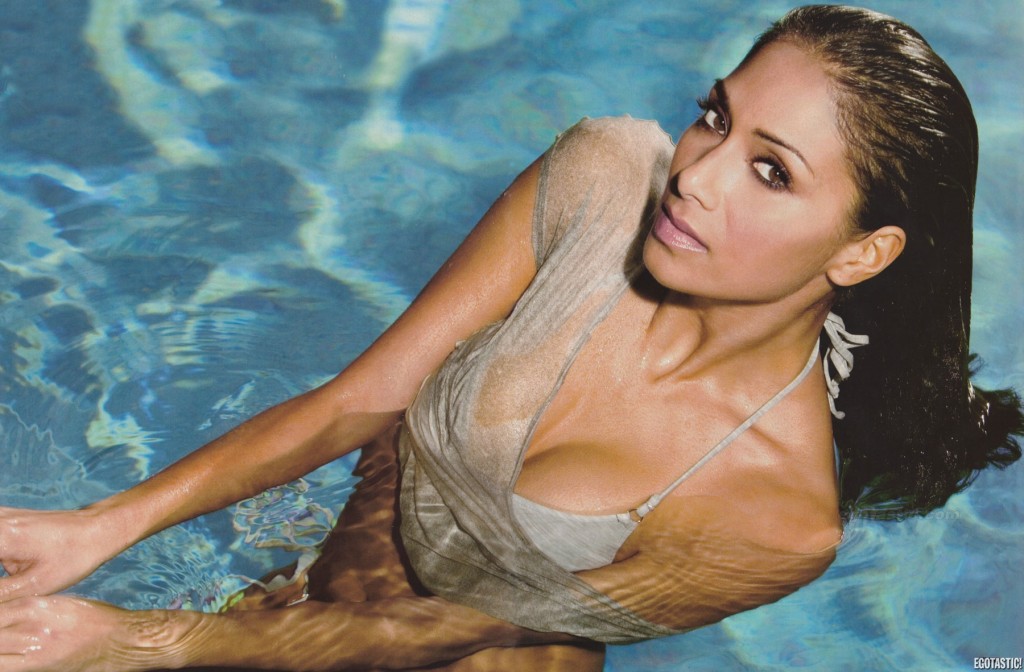 Originally formed in the early 1990s, the Pussy Cat Dolls already made waves in the music industry, but the addition of Scherzinger created a tsunami of mainstream appeal.  Songs such as "Don't Cha," "Witchu," and "Buttons" blew up the charts and spawned a PCD live tour, merchandising, endorsements, and even a "Pussy Cat Dolls Lounge" in Las Vegas, making the burlesque troupe a household name. However the addition of Scherzinger was not without controversy as it has been rumored the cause of the band's success may have also contributed to its breakup. Nonetheless Scherzinger has continued her rise to the top, appearing in numerous musical, film, stage, and entertainment endeavors.
She has collaborated with artists ranging from Snoop Dogg to Alice Cooper, and even returned to her reality TV roots appearing as a judge for The X Factor UK as well as winning season ten of Dancing with the Stars. She was even rumored to have been offered a spot in the Black Eyed Peas by will.i.am, and the inspiration for the 311 song "Amber."  With so many accomplishments under her belt, it makes perfect sense that she has some kind of Asian in her. The overachieving make us look bad comparatively in front of our mom and dad kind.  THANKS A LOT NICOLE!
*And you thought Scherzinger was hard to pronounce.
3) Nicki Minaj (Indian/South Asian)
Nicki Minaj, aka Roman Zolanski, aka Nicki Teresa, aka The Harajuku Barbie, aka Nicki the Ninja, aka Nicki Lewinsky, and the list goes on. However, despite the plethora of alter egos, at one point in time Nicki Minaj was simply known as Onika Tanya Maraj. Born in Saint James, Trinidad and Tobago, Onika Tanya Maraj comes from Afro-Trinidadian ancestry with some Indian-South Asian mixed in. How much of the latter, we are not sure. But we are pretty sure that at least two of her various aliases we listed imply that they are vaguely Asian. And those odds are good enough for us!
Amongst the artists on our list, Nicki Minaj is the relative new kid on the block, having spent less time in the music industry. She more than makes up for it though, as she is arguably the most mainstream and commercially popular artist currently on our list. The Young Money associate is one of the emerging new artists of the millennial age of hip hop. Her career is as much musical talent as it is entrepreneurship.
She stands out of the crowd with her brash and outlandish vocal style as well as her social media savvy presence, which currently makes her the world's most followed rapper on Twitter. In true hip hop fashion she is a combination of the new with a sampling of the old. Her current hit "Anaconda" is a prime example, taking today's twerking craze and matching it with the original booty shaking anthem of yesteryear's "Baby Got Back."
Many have even said she is the millennial generations' version of  Lil' Kim or Foxy Brown. Which makes sense, as the influence from these trailblazers of hip hop can be seen in Minaj's own outrageous personality, aggressive lyrical delivery, and provocative image. Come to think of it, like Foxy Brown, Nicki Minaj also hints at being vaguely Asian. Like Lil' Kim, Minaj has denied allegations of copious amounts of plastic surgery. And like both of them, has even started multiple feuds including ones with Mariah Carey, Lil' Kim, and Foxy Brown themselves.
It's starting to all add up now,  hanging out with Jay-Z,  it must be the Illuminati! Or maybe it's just kind of true that hip hop is getting too formulaic. I guess only time will tell, but if Nicki ends up in jail and starts getting plastic surgery to look like Latoya Jackson, I'm calling it now, you heard it here first. Put on your tin foil hats because the Illuminati is real.
2) Karen O (Korean)
The charismatic and enigmatic front woman of the American rock band Yeah Yeah Yeahs has given plenty of listeners and loyal Amped Asia readers a fever to tell.
Born Karen Lee Orzolek in Busan, South Korea, Karen O is the daughter to a Korean mother and Polish father. The Orzoleks eventually moved to Englewood, New Jersey where the captivating rocker grew up. Famous for her raucous stage performances and lavish outfits, Karen O reps alumni status to both Oberlin College and New York University's Tisch School of the Arts, proving she has the musical chops to back up her onstage theatrics. Karen O is constantly redefining not only what it is to be a female performer but Asian American woman as well.
She defies the stereotypes of what a lead singer in rock should be or what an Asian female should or should not be. Provocative as she is vulnerable, O exudes the confidence of a gold lion while maintaining an openness that is never afraid to show her bones, showcasing versatility as a performer as well as the complex dichotomy of being an Asian American female. Along with her work with Yeah Yeah Yeahs, she has had a successful solo career, side projects such as Native Korean Rock, an Academy Award nomination for Best Original Song, and collaborative work with multidisciplinary artists such as Spike Jonze. If that wasn't enough, she won Spin Magazine's Sex Goddess Award two years in a row (2004-05), named one of rock's hottest women by Blender Magazine, and even had Playboy Magazine make an offer for her to appear on their cover. An offer which she has since declined based on the audience the magazine attracts.
So to recap: smart, strong, resolute, talented, and hell we didn't even mention she's a philanthropist to boot; Karen O should be an Asian American front woman on everyone's map. And as a personal favorite of this Amped Asia author who gratuitously uses her songs to make terrible writing puns, I hope she keeps on a rockin'.
Provocative:

Vulnerable:

Who is #1? She's really beautiful. Turn the page.
You might also like
---
More from Blog
---
1.7K
The Nintendo Switch has been revolutionary when it comes to portable gaming. It's been such huge demand since its debut …
The Summer 2018 Issue of Amped Asia is here! It's proving to be a super hot summer, and a lot …
4.0K
Kim Mi So is a former model that was nominated for Miss Maxim in 2014 and she dropped everything and …