When we say her body is kickin', it isn't just a terrible pick up line. Michelle Waterson is the Karate Hottie you need to know about. Read on to find out more!
Standing at only 5'4 and 105 lbs, at first glance Michelle Waterson looks more like a kitten than the ferocious ass kicking tiger that she is. This kitten definitely has claws though, and has been a fixture in the world of women's mixed martial arts since 2008.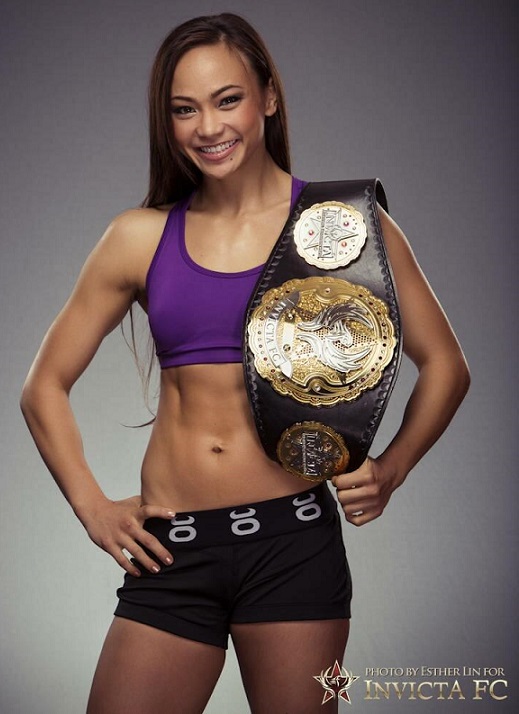 The pint sized pugilist nicknamed the "Karate Hottie" is a trained killer in the arts of Karate, Muay Thai, Brazilian Jiu Jitsu, Wrestling, and boxing. She is the current #1 ranked atomweight(105lbs) in the world, #6 ranked pound for pound female mixed martial artist on the planet, and former Invicta Fighting Championships atomweight champion.
When she is not fighting for the premiere fight league for female mixed martial artists, Invicta FC, Waterson has found time outside the ring to be a contestant on Ninja Warrior, a reality T.V. star, and bully repellent on MTV's Bully Beatdown. Oh and she even found time to be a mother when she gave birth to her daughter Araya in 2011.
She hasn't fought since 2014 when she lost her strap to Herica Tiburcio,  but we are sure that the Karate Hottie will be back in the cage kicking ass and taking names in no time soon. Maybe it will be back in Invicta or maybe even in the UFC where they are aggressively expanding their women's weight class divisions. Only time will tell.
In the meantime check out these pics of the Karate Hottie in all her ass kicking glory!
More from Asian Babes
---
1.8K
Another photoshoot by Jeff Fernandez, one of our resident Amped Asia photographers. Christine Luu is a hottie with a body, …
3.9K
The city of Dallas is a major city, but not usually as glamorous as cities like L.A. or New York. …
6.7K
One of Boston's finest has just moved to LA. We got to shoot her and her super flexible body. Check …