Nazgul's full spread can be seen in the April 2014 issue of Amped Asia magazine.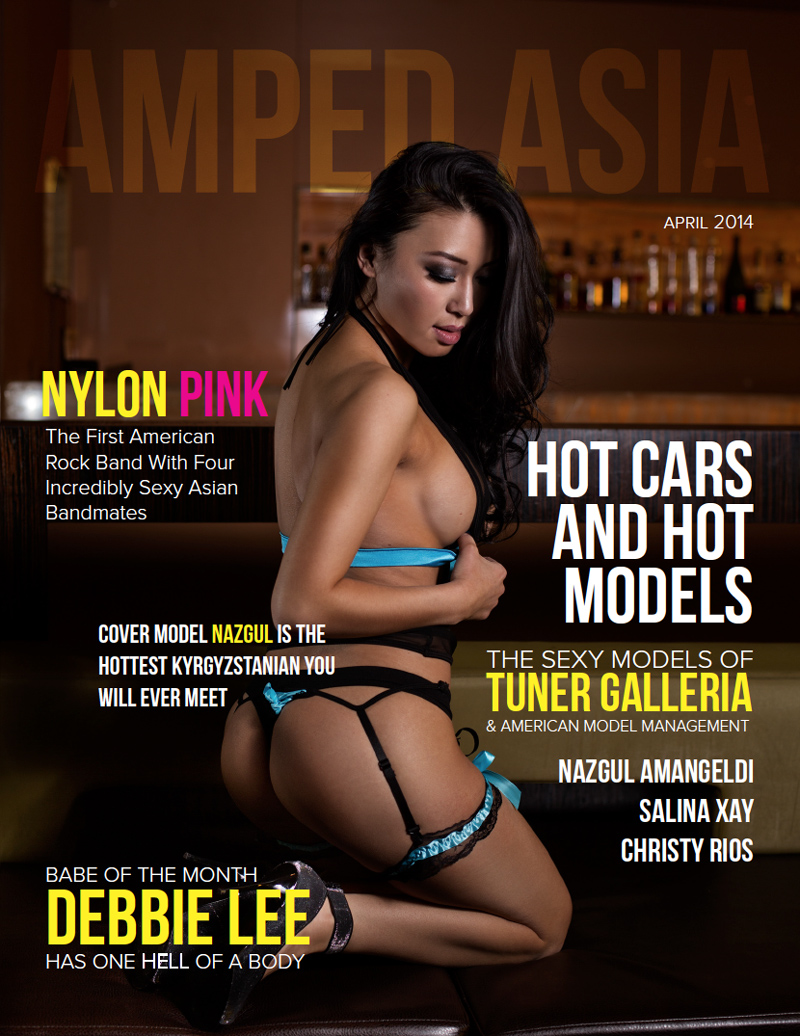 What's your ethnicity?
I'm 100% Kyrgyzstanian, which is in Central Asia
Tell us a little bit about your home country.
Well first of it's located between China and Russia. Kyrgyzstan was part of USSR. It has 2 official languages Kyrgyz and Russian. It's funny because we look Asian and speak Russian which throws people off.


Tell us about your modeling and what you hope to achieve from it.
I love modeling and standing in front of the camera. I'd love to become a huge superstar one day and leave something behind me not just my career that would be influence on people's life in positive way like for example I want to build an orphanage back home and help those kids get education. I also want to build homes for single moms and help them to get on a right path. I'm very compassionate I hope thru my work I can achive my goals
What do guys compliment you on the most?
Eyes and then lips.
What's the best part about being Nazgul?
I think that it's my intelligence, humor and loyalty.
What's one fantasy that you haven't fulfilled yet?
Well besides being rich and famous… maybe becoming a mother? Sorry that it doesn't involve a threesome.
What do you think guys are doing wrong when it comes to dating?
Two things: being guarded and playing games. Nothing wrong with being guarded but it's ok to let your guard down and show true self if you feel the right connection. Playing games that's just wrong because a lot of girls fall for that and just end up getting hurt.
Don't be that guy that's always playing hard to get, seeing other people, and leading on different girls.
Since this is the Tuner Galleria issue, what car is a panty dropper?
My pick is always going to be SUPRA, I mean c'mon it's timeless!
Are you single or taken?
Currently single.
What do you think is the hardest part about dating?
Trusting that person and opening up to them, and hoping that he's not a serial killer HAHA!
What are three traits you need in a man?
He needs to be smart, funny, and confident.
What are 3 turn-offs?
My turn offs would be arrogance, not caring for his family and not being punctual.
Which girl can turn you lesbian and why?
Oh man Candice Swanepoel can turn me lesbian. She's hot and has that innocent look yet she's a bombshell.
When you want to look sexy, what do you wear?
Heels and lipstick and of course my smile :)
If you were trapped on an island and you could only bring one thing. What would it be?
My romantic answer would be my man so I don't die alone but I'm a realist so I'd bring matches.
What's something "naughty" you want to do before you die?
Make a movie with my significant other.
Damn you haven't done that yet?
I mean I did but the lighting was all screwed up with TV in the background. I want a perfect scenario and everything.
What signals do you give a guy when you're interested in them?
Besides flirting and giggling, my phone number.
How do you "flirt"?
I will teach you, it's easy you just put on mascara.
Oh shit thats all it takes? I need to buy me some mascara then.
Eyes say a lot so I do the talking with my eyes.
Check out more of Nazgul online:
Instagram: @missamangeldi
You might also like
---
More from Asian Babes
---
3.1K
The city of Dallas is a major city, but not usually as glamorous as cities like L.A. or New York. …
6.1K
One of Boston's finest has just moved to LA. We got to shoot her and her super flexible body. Check …
3.7K
Kim Mi So is a former model that was nominated for Miss Maxim in 2014 and she dropped everything and …