Margaret Cho's performance at the Golden Globes: Satire or Stereotype? You Decide!
This past Sunday night comedian Margaret Cho joined hosts Tina Fey and Amy Poehler during a skit which lampooned the recent controversies over the film The Interview and North Korea's alleged involvement with the retaliatory Sony hacks. In the skits performed throughout the night, Cho portrayed a character named Cho Young Ja, a North Korean general with a powder white complexion, tight military bun, and military garb who was introduced as the newest HFPA member in attendance. For those unfamiliar, the HFPA stands for the Hollywood Foreign Press Association, an organization of journalists and photographers that report about the activities and interests of the United States' entertainment industry to international information media outlets outside the U.S. The HFPA is made up of about 90 members from 55 countries and conducts the annual Golden Globe awards in Los Angeles, California.
Since Sunday, Cho has received quite a bit of backlash for her portrayal of what some have considered stereotypical and even racist. Many on social media outlets such as Twitter have reacted negatively against Margaret Cho's character with quite a bit of vitriol likening it to derogatory terms such as the Asian version of "shuckin and jivin" to appease white bosses.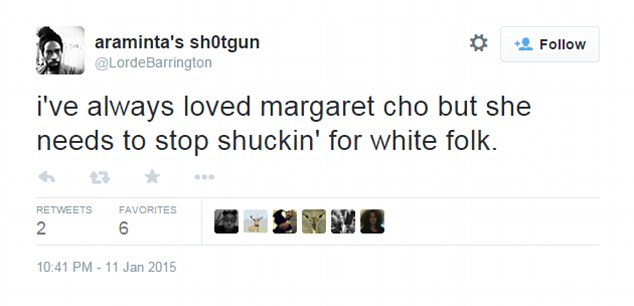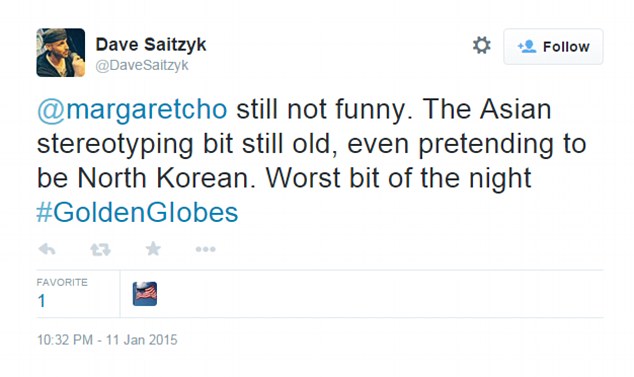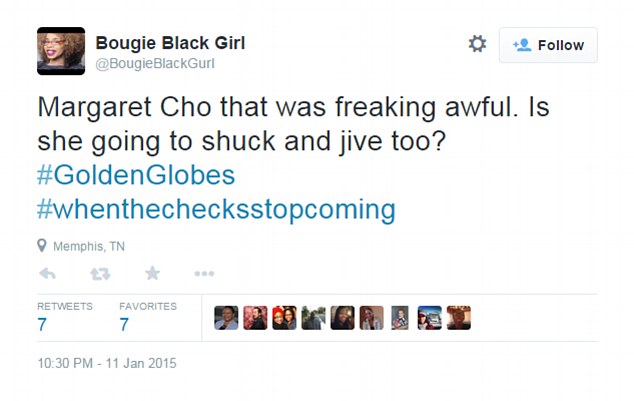 Margaret Cho has at this point continued to make no apologies for her portrayal, defending her position that her work was an act of satire and not stereotype. On Twitter she has even stated that she is not playing the race card as it were, but rather the "rice card" and made no bones about her stance, stating that as a Korean of North and South decent she will continue to make fun of those who imprison, starve and brainwash her people.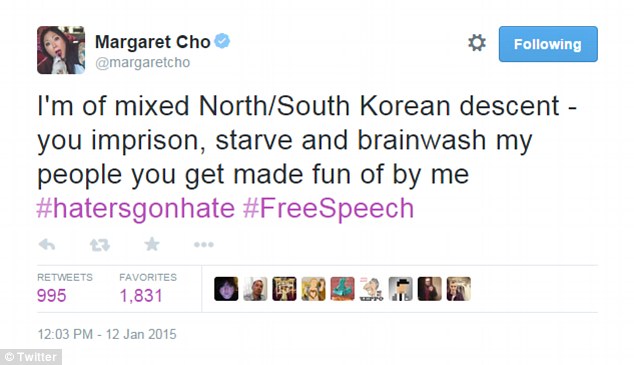 Time will tell whether her involvement with the Golden Globes will be remembered as subversive satire or worse stereotypical and ridiculously racist, the readers and public will ultimately decide. What do you think Amped Asia readers? Feel free to sound off in the comments section.  This Amped Asia writer for one feels that it is of the former, albeit not exactly done with the best execution.
*The following views are solely those of the author of this article and do not reflect those of Amped Asia as a whole.*
Anyone familiar with the comedian's 20 plus year career would be well aware that her material is often comprised of making commentaries on social and political topics, especially those dealing with race and sexuality. One of her best known stand up routines revolves around an impersonation she does of her mother, often performed with a heavy Korean accent. This imitation has often been carried over into much of her material in which she juxtaposes her experience as an American born Korean to the expectations and generation gap of Korean immigrant parents, and those unfamiliar with the Asian Diaspora trying to fit into mainstream American culture. That being said it is both somewhat understandable and perplexing why she is receiving such hate for her recent performance.  For instance, it is not like this is the first time Cho has done something to this degree in her standup routines or even in mainstream media. In fact this wasn't even the first time she portrayed a North Korean dictator! She guest starred on Fey's hit sitcom 30 Rock portraying Kim Jong-il for three episodes, a portrayal that even netted her a Prime Time Emmy Award nomination for Outstanding Guest Actress in a Comedy Series. And let's be real here, more people are familiar and accepting of Tina Fey and Amy Poehler's work which is why they are not only the hosts, but most likely one of the main reasons audiences are even bothering to watch the Golden Globes. So are we really to believe that with their combined body of work, and Cho's previous collaborations with Fey, that we are all of a sudden morally outraged by her type of performance? Give me a break.
(We need to bring back All American Girl)
Now first and foremost, as an avid fan of the comedian's previous work, I may sound bias, but even I can fully admit this perhaps was not her finest moment. Race aside, it honestly was not the best example of her comedic potential and was a performance that at worst fell a bit flat. But to say it was an atrocious example of stereotyping and racially insensitive work is quite a bit of an exaggeration in this author's opinion. Was it her best goosestepping foot forward? Probably not. Was it her worst? Definitely not.
The problem I find with this sudden outpour of criticism is based on the fact that although Hollywood and much of the entertainment consuming public has often ignored if not deemed much more insulting and flat out vindictive Asian racism acceptable, they suddenly decide to grand stand on what honestly seems like a non-issue. If anything I want to hear more about how Tina Fey and Amy Poehler got away with the Cosby jokes! Anyway…
First of all, we as a society have accepted blatant horrible racism from the days of Mickey Rooney's character in Breakfast at Tiffany's to David Carradine's seemingly improbably lengthy career of playing yellow face. And to those that claim this is just a rehashing of  racist relics of the past, let me remind you that A) This type of racism is not some sort of well meaning but politically incorrect mishap of the past, we have not tried to re-write or even admit to it. B) It frighteningly exists with the same type of casual apathy now as it did back then. Example: Carradine in Crank 2.

(Don't judge us, it was a different time back then when people didn't know any better. It was 2009!)
One doesn't have to look as far back as the Mickster's glory days to see examples of these racist caricatures. One only has to turn on their TV's or I guess laptops nowadays, and watch prime time shows such as 2 Broke Girls' portrayal of Han Lee to witness overt racism or attend one of the trilogy of Hangover films involving the character Leslie Chow to get an idea of what most should consider racist. The point is, mainstream American entertainment is still rife with the racist characterizations of Asians and Asian-Americans that to crucify an Asian-American comedian who has been often at the forefront of Asian-American advocacy as well as LBGT, feminist, and a bevy of other social issues seems at best misconstrued indignation and at worst disingenuous political correctness and hypocrisy.

(The racist hat trick:  Asian stereotype, Russian Stereotype, black stereotype.)
Sure you could definitely make the argument that her performance could be seen as a case of "selling out" or just adding to the aforementioned litany of racist Asian stereotypes, but can we just call it like it is? It was a subpar performance by a generally well received comedian that unfortunately fell short of the hilarity we expected. Even as a fan, I can admit it was not necessarily her best work and somewhat disappointing. It was cringe worthy at times but honestly not because of the perceived racism, but that it was a bit of a lackluster performance by a comedian who has much more to offer. It fell flat yes, but did it implode to Michael Richards' level? No. So let's calm down about it is what I am trying to say. Interestingly I have also noticed that there is quite a bit of NON-Asian backlash against Cho which I find worth mentioning. Frankly I do not know any of these Twitter users nor their history of stances on issues such as race, politics, social, etc. but it seems odd that so many non-Asian people find what Cho did so horrendous yet where was this righteous indignation, the protests, the cries of foul when a myriad of other racial offenses were played out before our eyes in mainstream media? Where was the outrage when Kunal Nayyar on the Big Bang Theory is stuck playing the perpetual emasculated nerd? Where was the anger when Miley Cyrus slanted her eyes because she was posing with an Asian?Why wasn't Floyd Mayweather Jr. reprimanded for calling Pacman a sushi  making yellow chump? For fuck's sake even Kate Gosseling had the gall to slant her eyes and she is the ex-wife and mother to a bunch of Asian and she can't even box!
(We searched for the "Best of Raj" and this is what we got. Almost scares us to know what the "Worst of Raj" looks like)
(To be fair though, he has been punched a lot more times in the head than anyone else in this article, so his racism may have a legit excuse)
My point is as much as a bleeding heart oversensitive- to- race- issue- liberal I can be at times, even I don't think what Cho did was that bad. I can even concede how it could be interpreted as racist, played to appease the mostly non-Asian crowds' stereotypical sensibilities, and that Cho, being one of the few if only Asian performers allowed on stage should have been more responsible with her time in the limelight. I give you that. But I beg to ask a different question that we should be upset about. Why was that elite crowd of Hollywood royalty mostly non-Asian? Why was she one of the only Asian performers "allowed" up on stage? Why did she anger those who blamed Sony's hack on North Korea with her portraying a North Korean, and actors such as Seth Rogen are not held responsible for creating an international incident?  AND WHAT THE FUCK WAS PRINCE WEARING?!Ok that is a subject for a different time. But my point is let's not hitch our wagon to an issue that will get us nowhere. Instead let us continue the outrage and the calling out of racism toward the rampant uses of emasculated Asian men stereotypes, oversexed dragon ladies clichés, and dehumanizing portrayals of Asian people as something foreign, exotic, lesser, and "oriental." Let's stop scapegoating the problems we have created on understanding and assimilating race into our zeitgeist with mishaps such as a bad performance, and focus on the problems that got us here.
Ultimately you the reader must decide how you interpret the events of the Golden Globes award and over time we will be able to compartmentalize what if anything went down. This is just this one author's views.
More from Blog
---
1.7K
The Nintendo Switch has been revolutionary when it comes to portable gaming. It's been such huge demand since its debut …
The Summer 2018 Issue of Amped Asia is here! It's proving to be a super hot summer, and a lot …
4.0K
Kim Mi So is a former model that was nominated for Miss Maxim in 2014 and she dropped everything and …