Lisa Song Sutton was featured in the 2014 Entrepreneur issue.
Lisa Song Sutton is an extraordinary human being. She's a talented and beautiful model who is not only the reigning Miss Nevada United States but also a very successful entrepreneur. As a model she's been featured in over 70 publications including Maxim, GQ, and Sport's Illustrated. Besides that she's also an active philanthropist in the Las Vegas community.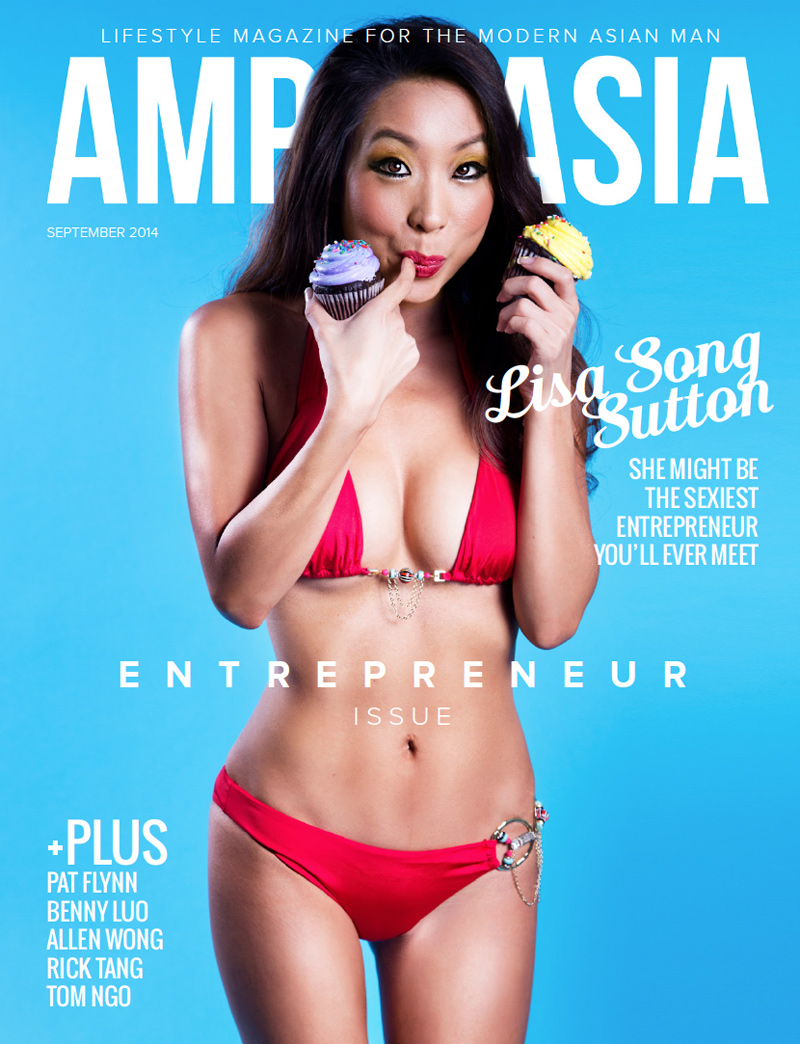 Her main business endeavor is called "Sin City Cupcakes," a bakery in Las Vegas that creates delicious alcohol-infused cupcakes. She started the business with her friend and fellow Amped Asia model, Dannielle Michelle. Being that this is the entrepreneur issue, it's fitting that Lisa Song Sutton is our cover model.
We had a quick interview about how she got started with her business, her experiences in entrepreneurship, and her life as a beauty queen.
How did you and Dannielle get started with Sin City Cupcakes?
She and I met in the modeling industry in Florida, and we had been friends for many years. We were catching up on the phone and she told me she was making these alcohol cupcakes for family & friends in Florida. At first I was like, WHAAT, and I was laughing about it. Then she sent me photos of the cakes, and I was impressed with it. Dannielle is a very experienced baker, and she's really talented at creating these interesting pastries. So I thought that I could partner with her and help her to make this a real business. I asked her to come out to Vegas to start the business with me because I knew Vegas would be the perfect place to market these cupcakes. Dannielle wasn't sure at first, but she eventually took a leap of faith and moved across the country to join me in Las Vegas. Ever since then we've been working on this business together. It's been a great fun ride and we're expanding extremely quick.
How did you get the initial funds to start your business?
We funded it from our savings, and I got a no-interest loan from my mom to buy a gourmet food truck, a Mercedes Sprinter Van. We needed that to promote and to go to certain food truck events.
How did you get your first sales?
Since I had some name recognition in modeling and I knew people in Vegas, all of that that helped us to get a few initial sales. We had a website and social media and people would just call or order online. At the beginning it was just me and Dannielle in our little bakery so we would have to answer all the emails and calls ourselves. We've expanded a lot now so we have a bit larger team in the bakery helping us with operations.
How did you market your product?
So the big thing was about three months into operations Fox News called us and asked us to film a segment about unique products in Las Vegas. Luckily for us that segment went viral all over the world. Because Vegas is such a destination city, a lot of people planning trips to Vegas would then call us to buy cupcakes. That put us on the map very quickly. So yes, we got very lucky with that.
One of the things we did was we partnered with Yelp to run cool events that involved our cupcakes. That helped us generate a ton of positive Yelp reviews and people discovered us on Yelp. To this day we still do events with Yelp. Recently we did a "Nerdy" bowling event with Yelp where we catered the cupcakes. All of these things helped us get a little bit of recognition each time which ultimately helped us make more sales and grow our business.
We also became more involved with the food community. We partnered up with other companies with good followings such as Fukuburger. When they were holding an event we just reached out to them and asked if it's okay that we provide the dessert for the event. This allowed us to promote our product to the massive audience at the event.
How did you get the opportunity to partner up with Fukuburger?
We just reached out over email, told them about us, and asked if we could sell our cupcakes as the dessert for the event. They would much rather work with us than a competing burger truck for the event. In this situation it was beneficial for both parties because we could sell the dessert and they could sell the main entree. But honestly, Fukuburger did us a huge favor by allowing us to do this since we probably didn't help them as much as they helped us. Their audience was already massive. It's all about finding those brands you can cross-promote with to build up your company. You don't have to pay for any marketing or advertising. Finding low-cost partnerships with relevant brands can help you immensely.
Recently Lisa started a new project called Liquid and Lace, a bikini line. She also works as a real estate broker.
How do you manage to do 4 different things or do you think you're stretching yourself out?
At the end of the day, all of these things hinge on marketing. They are all different businesses, but they are all about me selling and promoting. Whether I'm selling cupcakes, selling real estate, or selling bikinis, it's all about marketing. That makes it easier for me since they all use the same skillset that I have.
Why even do so many things. Don't you think you could do better if you have only 1 or 2 things going on?
I honestly just love doing everything that I'm involved in, and a lot of what I do works in synergy with each other. For example, being Miss Las Vegas gives me a lot of opportunities and connections to help my businesses. Every project that I'm involved in is a project I'm really passionate about, and I'm super good with time management. I'm not afraid of hard work. I work 7 days a week. My boyfriend is amazing because he understands and is patient with my schedule. It's a lot different than working for someone else when you work for yourself. I don't think it bothers me that I'm doing so many different things.
How do you go about your day?
First thing in the morning I grab my phones and check my calls and emails. I'll respond to what's urgent. That will take about 30 minutes. Then I get my day started and start at the bakery. If there are any deliveries I need to make I can send them out myself to central Las Vegas. Then I go to the real estate office for a couple hours. At night I might have a Miss Nevada appearance then I go home, go to sleep, and rinse and repeat. Anything with the bikini line, Liquid and Lace, I handle emails during the day in between everything. I try to be in bed by 12.
Which thing is the main revenue generator for you?
Revenue comes in from all the sources. The bikini line is still the baby right now, so it's not making as much as the others.  Like my mom told me, it's best to not put all your eggs in one basket.
Part 2 is about her modeling career.
She began modeling as a college student and was scouted at age 19. She did a few modeling gigs at first  and kept on modeling throughout college. Soon she was building a lot of contacts in the fashion industry.
After going to school in Arizona, Lisa moved to Miami  and started booking tons of gigs. She attributes a lot of her success to the fact that she was only one of three Asian models.
"Because I was the only Asian girl most of the time I was getting booked a lot. It really helped my career and gave me the opportunity to travel to a bunch of places and meet so many interesting people.
"Even though I'm fairly short, I have a very proportional body. On camera people think that I look 5' 7" or taller even though I'm a few inches shorter."
Modelling led Lisa Song to becoming a beauty queen. She currently holds the title of Miss Nevada United States. "There are three main beauty pagaents, Miss Usa, Miss America, and Miss United States. I'm the Las Vegas winner for Miss United States," Lisa explains.
In November 2013 Lisa won the title of Miss Las Vegas, which was the local title. That led her to end up winning Miss Nevada.
"I had a lot of preparation. I'm in the stage of my life where I know what I want and how to achieve it. That's why I think I won. I had a lot of preparation. I had a pagaent coach. I was confident."
In my opinion, she's a great winner. Lisa is strongly involved with her local community, and she actively uses her crown to participate in more community service events. "People want Miss Nevada United States to help, and I love helping. That's one of the reasons I'm glad I won because I'm able to give back more effectively to my city."
Her title has also helped her businesses. The crown gave her a lot of recognition and popularity, and cross-promotion opportunities have popped up because of her title.
Lisa was also in the Miss America pagaent back when she was younger. The cut-off age for Miss America is 24. When she was competing in Miss America she won the runner-up for Miss Arizona. That spurred her interest in continuing with beauty pagaentry.
"But modeling hasn't been all good. I had two stalkers in the past. A guy broke into my house and stole some of my stuff. Also there was one other guy that kept on showing up at my house and running into me in public settings. It was very creepy."
Who WOULDN'T want to stalk you Lisa? =)
SEE MORE AT
LISASONGSUTTONMODEL.COM
TWITTER.COM/LISASONGSUTTON
INSTAGRAM.COM/LISASONGSUTTON
HER BUSINESS VENTURES
LIQUIDANDLACE.COM
TWITTER.COM/LISASONGSUTTON
INSTAGRAM.COM/LISASONGSUTTON
Written by kevinhype