U.S. Vice President Joe Biden with Anime girls is a thing. Read on to find out more.
Throughout the history of the United States, there has been a remarkable amount of embarrassing moments by our second in commands. Dan Quayle couldn't spell POTATO, Spiro Agnew used racial slurs like "polack" and "fat Jap" unabashedly in public, and hell even Dick Cheney blasted Harry Whittington in the face with a shotgun!
Actually that last one was pretty awesome because somehow or another Cheney actually got an apology from Whittington. The point is, the United States has a long history of not exactly respecting our V.P.s. Except Cheney of course….
Well now we can add Joe Biden to that list of Vice Presidential hilarity thanks to the new internet trend of Joe Biden with Anime Girls. We would explain more but it is exactly what it sounds like see: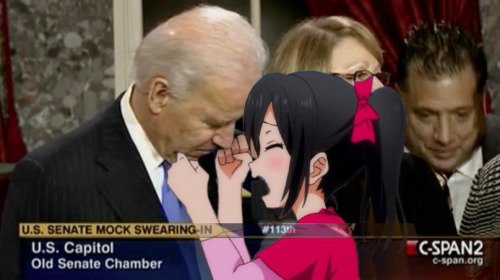 The internet is a wondrous feat of technological innovation by some of the greatest minds the world has to offer. Originally it was developed to help colleges exchange research information with each other. Now we use it to share cat videos and photoshop the second most powerful man in the United States look like he is going all Bill Cosby on anime chicks. Way to go society we have really outdone ourselves this time.
More from Blog
---
1.8K
The Nintendo Switch has been revolutionary when it comes to portable gaming. It's been such huge demand since its debut …
The Summer 2018 Issue of Amped Asia is here! It's proving to be a super hot summer, and a lot …
4.2K
Kim Mi So is a former model that was nominated for Miss Maxim in 2014 and she dropped everything and …