See Jeri Lee's full spread in the May 2014 issue of Amped Asia. Some HOT unreleased photos in that issue.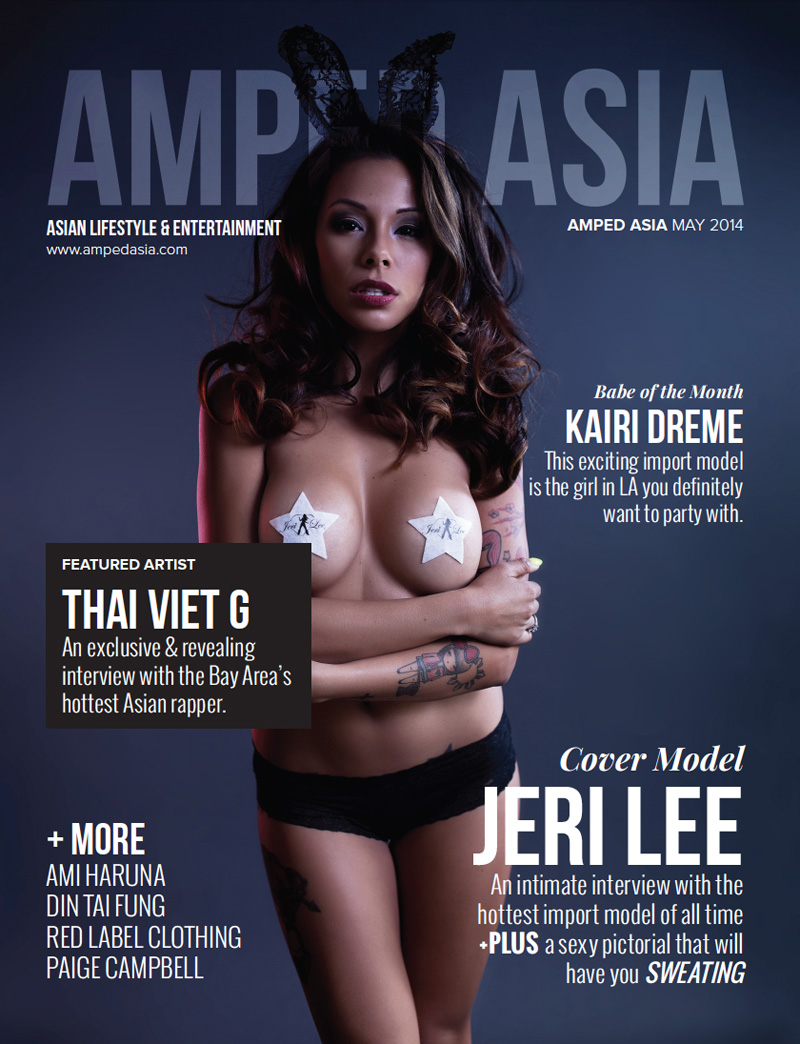 Photos by Kevin Tang. Lingerie sponsored by Seven Til' Midnight.
If you like import cars, then you've definitely heard of Jeri Lee. She started import modeling over 12 years ago at the age of 17, and to this day she's still one of the most popular names in the business.
But she's not just an import model. In fact, she's slowly moving away from that scene. Nowadays you can see her gracing the pages of FHM, Playboy, and numerous other magazines. She can also be seen hosting parties at the hottest night clubs around the world. Every now and then you'll get to see her beautiful face at a car show, but she's increasingly getting busier with her other projects.
Her nickname is "Mama Lee" and the name fits her so well. In many ways she's a role model for the younger girls in the industry. Many import models have mentioned to me that they look up to Jeri as a maternal figure and role model.
Speaking of role models, Jeri recently filmed a couple episodes of a reality TV series called "Roll Models" where they featured some of the hottest import models. You can check out that series on the Loud Channel on Youtube.
Her success as a model has helped her create an empire that is just getting started. "Mama Lee" now has a successful show called the "Pastease" show — a portmanteau combining "pasties" and "tease."  She performs amazingly sexy dance routines on stage wearing pasties, which are nipple coverings.
We did a quick interview with the lovely Jeri about her life as an import model, her relationships, dating, and love. I think you'll learn some interesting facts about our beautiful cover model.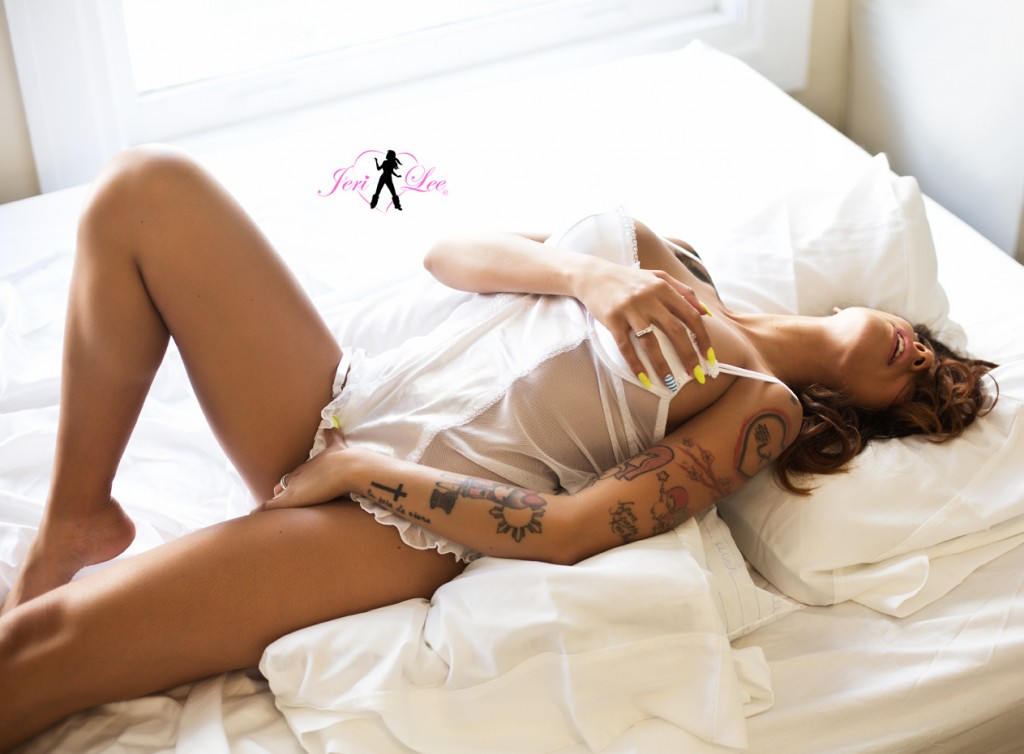 You've been one of the best import models for so long. How have you managed to do it?
I've done everything I can to put myself out there. I'm always hustling. Meeting as many people as possible and making connections. I'm also very in touch with my fans — they support me and love me and keeping in touch with them has been huge for my career. I talk to all my fans. I always reply to them if they leave me a message on my social media. You have to really be on point to succeed on this industry.
Do you have any advice for newer import models.
When I started I never got feedback on anything, but I still managed to be pretty good. My High School sweetheart at the time was on a car team so that's how I got into it at first. But here's the #1 thing. To be successful in this industry you have to have a really great personality and be very humble. People want to work with girls that know how to present themselves well.
Also, for the newer girls, you must keep in mind that not everyone is trustworthy. Always know your surroundings and what you're going to get yourself into. There are so many shady people in the industry that just want to get you naked. Be careful and stay safe.
Do you have any tips for the models on posing?
Look at yourself in the mirror. Keep looking and figure out what angles and sides look good on you. I found out what I like and how I look good through there. And after doing tons of shoots you just figure out what makes you look best. I've been modeling since I was a kid so it helps that I have so many years of experience.
What events led to your career taking off?
When I first started at age 17 my first job was the International Auto Salon, and then I worked with a huge company called Gretty. Since those people were huge in the import scene it really helped me get noticed. Then I also got the job at SEMA shortly after. My career just took off from there, and I'm still here today.
What's something that few people know about the import model industry?
There's very few secrets in import modeling actually. Unless you become a pornstar or webcam model which some girls do… haha. But actually with go-go dancing there are some misconceptions.
People think go-go dancers are strippers, but we're not taking off our clothes or showing our hoo-hahs to everybody. We're hyping up the club and we're eye candy.
Tell us about your pastease show and how you started it.
Pasties are just fun little stickers that are fun to have on your boobs. It's a company that my friends own, and I thought it was a great idea that I should have a show with my girlfriends that incorporated the pasties.
Now it's skyrocketing and we've been touring to Korea, London, Hong Kong, Singapore, and the list goes on. Of course we also have a lot of shows in the OC, LA, and Vegas. I'm very happy to be a part of it and take my friends along too.
How did you get the nickname Mama Lee?
Well it starts with the whole rave scene, whenever I went to a rave I would always be the one taking care of people. Around 2007 at Hot Import Nights, Jessica Burciaga and some other friends of mine I was taking care of them and then they told me "You're really like a mama, a mom figure," so that's how I became Mama Lee.
What do you do for fun?
My life is fun. I love all the stuff – popping bottles, going to clubs, etc. But I actually love just chilling, looking at some Artsy Fartsy stuff. So even though all that partying is great, I can have fun just taking a walk, grabbing a cocktail, or going to some really cool restaurants.
Which lady could turn you lesbian?
Monique May. She's a cocktail waitress in Las Vegas. She's so damn hot. I would always go to Vegas all the time and I always got super turned on by her. I told my boyfriend that if we ever have a threesome it will be with Monique May. So yeah she's my lesbian girl crush.
What a fucking lucky boyfriend. So unfortunately that means you already have a boyfriend huh?
Yes, I am happily taken guys. Sorry!
How did you and your boyfriend meet?
We have mutual friends in the clubbing scene. And one of his best friends is a promoter that I used to dance for. We went to a mutual friend's wedding in the Philippines and I really really love weddings. I always joke around with him that it was because I was drunk which is why I was initially attracted to him. He was dancing and being silly and being charming.
What makes a guy attractive to you?
I love a guy's smile. I love bigger guys, muscular, toned. Sorry I'm describing my boyfriend… haha. But really what turns me on about a guy – intelligence, a great sense of humor. Someone who's very family oriented. Also someone who works out. I love working out now, it's my addiction.
Have you really had an awkward first date?
To be honest, not really. I can't really even think that far. I'm the type of girl that's been in relationship after relationship. My boyfriend was really great to me, so I haven't had a bad first date or anything like that.
What do you think are the keys to a happy relationship?
Communication is key. Talking it out. If you know me, I'm a bad bitch, I have a bad temper. I can be a little bit crazy when it comes to my relationships. But talking problems out is the most important thing. We've been together for four years so it must be working.
What do you think guys are doing wrong in the dating world?
I really don't know because I haven't really been single much. But I hear stuff from my friends all the time. Especially in this industry a lot of my friends find it hard to find a guy. I know that sometimes they go on dates through online dating sites like Tinder. I don't know what the fuck is wrong with guys these days. Maybe my girls are on the wrong sites. I heard eHarmony can get you a husband in a year. Hah!
What future plans do you have?
I'm always traveling and booked throughout the rest of the year. I have some Pastease shows coming up and I'm going to be at several events. If you want to know where I am, check out my Facebook and Instagram.
Any final messages?
Thank you Amped Asia for having me. A big thanks to all my friends and family. Don't forget to check out my Facebook and Instagram.
Facebook: The Real Jeri Lee Fanpage
Instagram: @mama_lee
You might also like
---
More from Asian Babes
---
3.6K
The city of Dallas is a major city, but not usually as glamorous as cities like L.A. or New York. …
6.5K
One of Boston's finest has just moved to LA. We got to shoot her and her super flexible body. Check …
4.0K
Kim Mi So is a former model that was nominated for Miss Maxim in 2014 and she dropped everything and …