India, like China, is steadily becoming an economic powerhouse on the world stage. But that's not the only thing they share with their Asian neighbors. India too has difficult grasping the English language. Read on to find out more. 
Ok so admittedly this article might have been a teeeensy bit misleading, albeit largely hilarious. You see a recent cultural mishap in India resulted in some unfortunate comic fodder. Sure it may have appealed to our baser instincts resulting in what some could consider a juvenilia phase in our literary careers.
We say FUCK IT! It's still funny and come on, a good laugh at the expense of some cultural misunderstandings often provides a glimpse into the beautifully mundane and randomness that is the spice of life! Now that we have fully supported our argument through an airtight, scholarly articulated point of view, let's laugh at some POOH!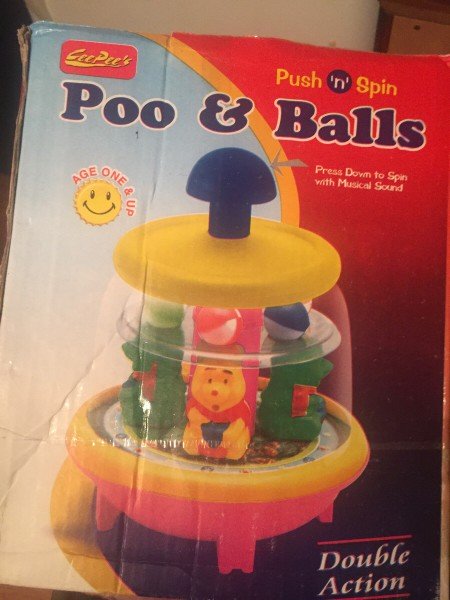 Winnie the Pooh that is. You see following in the comic footsteps of Chinglish and a plethora of English as a second language incompatibilities, India has produced quite a comic gem, or should we say rupee. A recent toy company produced a knockoff children's toy product that features the well known literary and children's icon, Winnie the Pooh, as a primary component. The toy appears to be the standard type of simple interactive toy aimed at young children  that stimulates their brains while engaging their attention and rudimentary motor skills.
Pretty standard stuff really. Until you notice that this product has unintentionally, hopefully, named their product "Poo & Balls." And we do mean hopefully, otherwise there is a scatological toy maker out there that needs to be reported to the authorities immediately.
So welcome to the club India! You have now joined the elite group of Asians that has misused the English language to the delight of billions over the internet. Congrats! And don't forget club dues are to be turned in every third month.
Source: Weird Asian News
More from Blog
---
1.5K
The Nintendo Switch has been revolutionary when it comes to portable gaming. It's been such huge demand since its debut …
The Summer 2018 Issue of Amped Asia is here! It's proving to be a super hot summer, and a lot …
3.7K
Kim Mi So is a former model that was nominated for Miss Maxim in 2014 and she dropped everything and …