A recent MMA bout ended with a move worthy of Ryu. Read on to find out more!
For many of us this:

Might have well been the Rosetta Stone, Holy Grail, or Lost Sea Scrolls to unlock the hidden powers of a pizza grease saturated Street Fighter 2 arcade cabinet joystick.
It cannot be overstated the amount of influence and joy that the Street Fighter franchise has brought both Asian and non-Asian fans throughout the years. Many are the times most of us can recall tensing up furiously, futilely gathering as much of our chi/ki as possible, only to throw out nothing from our disappointed hands.
Well fear not fans, one of us out there finally did it! Well sort of. In a recent welterweight fight under the World Series of Fighting MMA organization, Shane Campbell defeated Derek Boyle in spectacular fashion.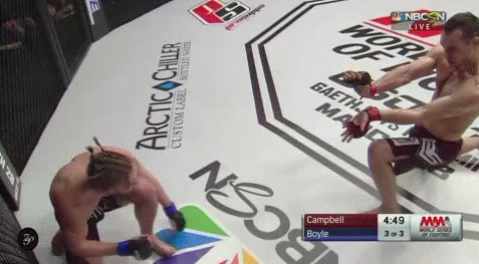 Now any avid MMA fan knows the sport produces some of the most awe inspiring and exciting moments  any sport has to offer. From Machida's Karate Kid style crane kick KO of Randy Couture or Genki Sudo's elaborate entrances, the sport of MMA is no stranger to entertainment.
Well it seems Shane Campbell is no stranger either, en route to his TKO victory over Derek Boyle, Shane found time to channel his inner Ryu, or Goku depending on your fireball preferences, and launched a hadouken at his wobbly opponent before finishing him off with a barrage of ground and pound.

The fight was thankfully stopped before any more punishment could be dealt via Sonic Booms, Yoga Flames, or the dreaded Spinning Piledriver.
Although Shane Campbell came out the victor that night, we at Amped Asia can't help but feel we all won that night. Proving that our investment of countless quarters over the years has finally paid for itself. Congrats Shane!
More from Blog
---
1.7K
The Nintendo Switch has been revolutionary when it comes to portable gaming. It's been such huge demand since its debut …
The Summer 2018 Issue of Amped Asia is here! It's proving to be a super hot summer, and a lot …
4.0K
Kim Mi So is a former model that was nominated for Miss Maxim in 2014 and she dropped everything and …