Living in LA I've always dreamed of being able to escape the traffic in a flying car.
Those dreams are one step closer to coming true.
Recently a company called AeroMobil has unveiled a flying car called the "AeroMobil 3.0" which transforms from car to airplane. Check out the gif to check the transformation.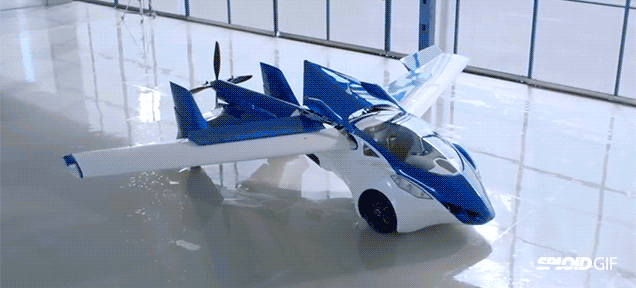 So yes, we now have flying cars. But we're still years away from having them on the roads. What's stopping us from making these bad boys street legal?
First of all, the infrastructure is just not there yet. These flying cars take up a lot of road space with the wings fully expanded, so there's that. Secondly, you need a large runway to be able to launch into flight. In the 405 traffic in LA I don't see that happening.
In my mind we would need "special highways" only accessible by these flying cars. Highways where we could launch the cars into the air and also land them if we needed to. It wouldn't be practical to have these everywhere at first, so there might only be a few per city. Big cities like LA could benefit from being able to get from the Westside to the Eastside in much less time. Intercity transport would also be much easier, as you could get to San Francisco from Los Angeles in less than an hour without having the hassle of going through the airport.
I can even see the "Uber for Flying Cars" app launching sometime soon.
More photos below.
Source: Sploid
More from Blog
---
1.7K
The Nintendo Switch has been revolutionary when it comes to portable gaming. It's been such huge demand since its debut …
The Summer 2018 Issue of Amped Asia is here! It's proving to be a super hot summer, and a lot …
4.0K
Kim Mi So is a former model that was nominated for Miss Maxim in 2014 and she dropped everything and …