Check out the newest photo trick blowing up the internets in Japan. Read on to find out more.
The world moves pretty fast these days, photo trends included, and in the ultra competitive high paced society of Japan it is no different. In fact it may be even worse as the tech savvy social media obsessed citizens are always looking for the newest way to make their photos stand out.
The Japanese have adopted photo trick shots such as the hadouken trick shot and the levitation shot which became viral hits online.
Now those types of shots are cool, but the Japanese BUTT BAT SHOT is even cooler: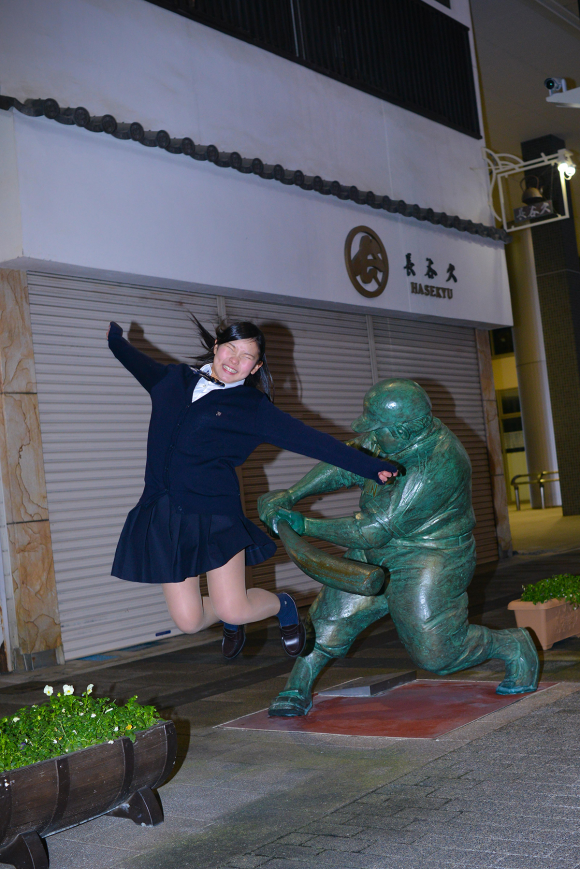 Now for those confused here is some back story about the bat to the backside shots. In Niigata the capital city of Niigata Prefecture in Japan, the city constructed a bronze statue to celebrate the accomplishments of one of their native sons, Shinji Mizushima, a well known manga artist popular for creating the baseball saga Dokaben.
The statue already received much attention from locals and tourists alike as a local landmark, but once a few intrepid photographers began staging photos incorporating the bronze statue of beloved Dokaben lead protagonist Taro Yamada into the mix, the statue soon became a viral hit in Japan.
Let's take a look at some of the photos that have stolen the bases of our heart, knocked it out of the park, and some other clumsy baseball metaphor we are struggling with.
Now we normally like to add some captions to the pics, but I think these photos really speak for themselves this time. However we must mention that looks can be deceiving, and that although this seems like some innocent trending fun there is actually a lot more going on than meets the eye.
The photos although silly as they seem, have actually become the pet project of Shinya Nishimura, the creative director of the free newspaper Okinawa Bishojo Zukan. The project is called Ketsu Bat Girls and translates to "Butt Bat Girls" in English.
Although the collection of photos featured in the Tumblr have girls' backsides being swatted by the iconic landmark, Nishimura is quick to note that the photos are not complacent to or promoting physical violence, rather more a nod to physical comedy and inspired creativity as seen when pairing the fixed powerful action position of Taro Yamada's swing with the funny, silly, and cute facial reactions of those he is using for batting practice. (Sooomeone went to Art College)
Whatever the case may be this juxtaposition of cute girls having their bums spanked by a baseball statue is working. So if you are in the area Niigata City, Furumachi 5 (新潟市古町5番街) swing by the Taro Yamada statue and step up to bat.
More from Blog
---
1.7K
The Nintendo Switch has been revolutionary when it comes to portable gaming. It's been such huge demand since its debut …
The Summer 2018 Issue of Amped Asia is here! It's proving to be a super hot summer, and a lot …
4.0K
Kim Mi So is a former model that was nominated for Miss Maxim in 2014 and she dropped everything and …