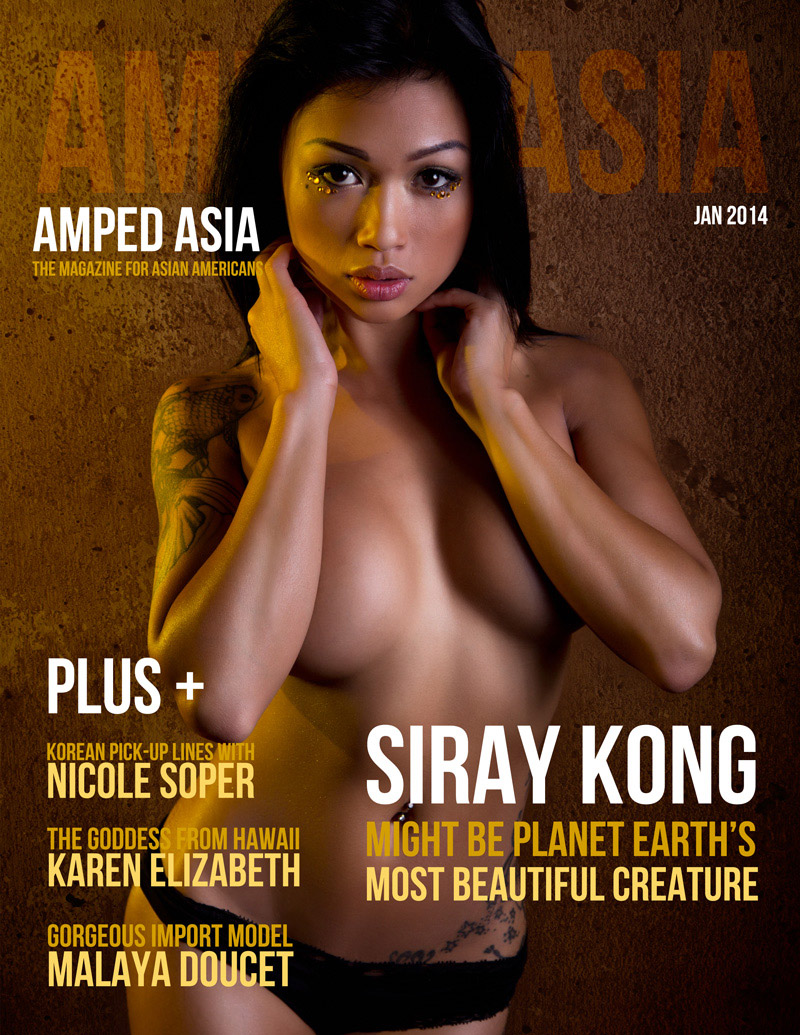 Siray Kong today is one of the world's most famous supermodels. As of right now she has over 1.4 million fans on Facebook, and it's growing by thousands every day. By comparison, Sports Illustrated cover darling Kate Upton only has 1.2 million fans.
In my mind I don't think I've ever met someone who was so wickedly smart, nor have I met a girl who was so jaw-droppingly beautiful.
With a deadly combination of hustle, intelligence, and beauty, Siray Kong is taking over the world, and it's a privilege that we got to shoot her for our January 2014 cover of Amped Asia.
We had a lengthy talk about modeling, life, and dating, and it was one of the most insightful interviews I've ever done. For the girls out there who are into the modeling game, YOU HAVE to read this interview, as I think you'll benefit greatly by learning from Ms. Kong.
How did you get your career started?
I got started 5 years ago in Minnesota. I began networking with local productions in the city and go-go dancing. I branched myself to Chicago and started going out there a lot and networking with the people over there.
I did a few car shows but I limited the amount I did because I didn't want to be titled as an "import model". In my opinion, when you become an "import model" you get typecast to do only certain types of jobs and I wanted to do a variety of different things.
I started traveling back and forth to California because this is where everything is. The first year I started coming to California I realized that there were huge opportunities out here so I made it a goal to move out here.
Eventually I decided to move out here to California by myself. I had no friends and family. Within 8 months of traveling back and forth from home to Cali, I had moved out here and started modeling full time.
Out here in LA, the networking opportunities were tremendous and and soon I was given the opportunity to eventually shoot for big name artists such as Snoop Dogg, 50 Cent, and Tyga.
How did you get the opportunities to work with all those artists?
I worked with a gentlemen out in Chicago who helped my career a lot. He was almost like a manager/assistant but nothing was on contract. So he helped me and he told me that someone was interested in me for a music video after seeing my modeling pictures. It ended up being Toot it and Boot it with YG, Snoop Dogg, 50 Cent, and Ty$.
I made it a point to introduce myself to the director of that music video and made him remember me. Because of that he remembered me and I ended up working with him for another music video as well – Make it Nasty by Tyga.
It's all about making great relationships with people and if you do that, work will come effortlessly.
When did you become a full-time model?
When I first got started, I had to juggle three different jobs to provide for myself and my family. I worked at the bank, I was a licensed beautician at a salon, and I also worked as a go-go dancer. I had to hustle and save money and do modeling jobs at the same time.
At the beginning, obviously no one wanted to pay me to model for them. After a while and after I've built a good portfolio, I was able to charge people. Since I've been in music videos with celebrities, I started being able to charge more.
It takes a lot of time. Since I had no friends and no family when I first moved out here, my sole dedication was to my career. It helped me stay focused and driven to my goals. I didn't care about living the Hollywood life. All I cared about was achieving what I could achieve and making my goals happen.
How do you think you achieved so much? What tips would you give to other aspiring models?
When I was hanging out with 50 Cent I asked him how he felt being at the stage that he was at – having fame, money, and everything people dream about. He told me, "Siray, you see that house on top of the hill? I want to live in that house."
And I was very inspired by that. Even though I have all these credits and I've worked with celebrities, I don't feel like I've gotten anywhere yet.
But at the same time I'm thankful for everything that I have so far.
You know I started the modeling career a lot later than most girls and it gave me a perspective I think a lot of these young girls don't have.
I grew up with nothing. My mom and I were on welfare, we came to Minnesota after being sponsored by a church. Before that we were at a refugee camp in Thailand. My mom couldn't even speak English when we came to America but still did everything she could to take care of me.
Those experiences made me appreciate life and make me realize that every day has to count. Alcohol, partying, drugs – those things will always be there. Why waste your life on that stuff?
I noticed a lot of the young models these days are caught up in that lifestyle. Mentally, a lot of these young girls get broken which is why they don't succeed. When I came into modeling, I was a bit older and I had a good grasp on how the industry worked.
Our industry has a lot of scumbags. There's a lot of people who give promises that they don't keep. A lot of people will try to take advantage of you if they can.
If you don't have a strong foundation as a model and as a person, you will be broken. And you will give up.
It's extremely hard to balance your goals, your family, your criticizers, and your dreams. As a model you need to have a VERY strong foundation – stronger than a lot of people – because it's SO easy to give up. It's hard to consistently encourage yourself that you can make it.
Only the strong survive. Otherwise everyone would make it.
Since you've worked with all these rappers, is there any interesting experiences you've had?
Being on set of the Make it Nasty music video. I wasn't actually aware of how the music video was going to be, and I didn't know how raunchy it was going to be.
They asked all the girls "Would you take your top off?" and "Would you pretend kiss a girl?"
I said no to the first one but I said I would kiss a girl and that's the farthest I would go. And I had to do it over and over and over. And it was weird to me because the girl was groping all over me. And at the same time I'm watching all these girls go crazy on each other and I actually don't like that too much.
It smelled bad. Musty smell. It was definitely "Make it Nasty."
But at the same time it was fun because I already knew the director and I also got to meet S Dot B, a guy who shoots all the celebrities out here – Wiz Khalifa, Drake, and all the famous artists.
How did you gain such a large fanbase?
I'll say honestly it's 3 things.
#1 – Having a good energy.
#2 – Consistency. Continually putting yourself out there and posting every day on your social media.
#3 – Keeping up with your fans. Replying to every letter that I can individually.
I am very grateful that I have so many fans that send me emails and letters. I'm blessed to be able to hear from people overseas saying they love me and things of that nature. It's amazing.
Then it just takes a few people to share your photos and bam you end up growing your fanbase.
Currently are you single or taken?
I am single.
Since you're a single woman, tell me what type of man you like.
I love a hardworking man. I love men that have goals. If you're going to be my king then I have to look up to you. You can't be lazy. I believe in the whole Bonnie and Clyde deal. I want someone to build up an empire with. If I'm building up my company, I can't have someone who's happy to work for someone else. I think a guy who has big dreams and lofty aspirations is a turn on.
You HAVE to be funny. You must have a sense of humor. A go-getter but someone who has fun. Don't be afraid to get loose but have complete control of yourself. Your mate is a reflection of you. If I was your woman, you wouldn't want me to get drunk every night and be out of control.
As far as looks – I'm not picky. I like guys of all races. Yellow, purple, or pink, it doesn't matter. Height, you just have to be taller than me and I'm pretty short so that's usually not a problem. I'm not too crazy about piercings all over the face. I don't care about tattoos, I have some tattoos myself.
What are your biggest turn-offs in a man?
Hygiene. If you're not gonna shower, then I'm not gonna like you.
I also can't stand rude guys. If a waitress fucks up your order, you should still be nice to her. Same thing about applies to guys that have road rage.
And guys who sag their pants, that's a turn-off to me.
Give one dating tip for men.
One dating tip I would say is to be upfront and forward with your woman. If there's something wrong in your relationship let her know instead of holding it inside. If she's going to get butt hurt over something you said, and she isn't willing to work with you, then she's probably not the right girl for you anyway.
Another tip is find someone who's going to be a reflection of yourself. If you find a bad girl, then you're going to be a bad person. At the end of the day, make sure your girl is someone who's cheering for you with all her heart. Make sure that she's going to be there for you.
Last question. What other projects are you doing right now?
I have a graphic tee line and an upcoming swim line. You can learn more about those on my website.
The main thing right now is that I am starting a music career. I started singing in church. My pastor requested that I start singing solos and I got vocal lessons paid for by the Church. I was nervous at first but I kept on going with it because my pastor asked me to do it.
I ended up joining a girl group in Minnesota called "Silhouette," but it didn't get too far because things got very unprofessional.
But modeling was the way that I got into the music industry. One day I got an email from a guy named Kirv. This guy worked with Bruno Mars and produced his entire first CD. He also works extremely close to Dr. Dre.
I sang for this guy and he was very interested in working with me. We did a lot of songs. I ended up signing a contract with him. For about a year I didn't do much and I sort of stopped working with him, but recently we started working again. Then I produced a song that's going to come out later. I'm still working on it right now.
Catch Siray online at
Facebook: /SirayKong
Instagram: @siraykong
Website: siraykongonline.com
Twitter: /modelsiraykong
Youtube: /siraykong
Makeup by Noemi Rivera. Photos by Kevin Tang. 
You might also like
---
More from Asian Babes
---
3.2K
The city of Dallas is a major city, but not usually as glamorous as cities like L.A. or New York. …
6.2K
One of Boston's finest has just moved to LA. We got to shoot her and her super flexible body. Check …
3.8K
Kim Mi So is a former model that was nominated for Miss Maxim in 2014 and she dropped everything and …