This Thanksgiving while you are enjoying your turkey, the game, and quiet moments you can escape the regret of coming home for the holidays, here at AmpedAsia we have provided a quick list of Asian Americans you should be thankful for. There are countless Asian Americans who have not only contributed to The United States but the world for the better, so no ONE list can do justice to all the Asian Americans we should acknowledge. However here is a short list we compiled of overlooked Asian Americans that may interest you and want to find out more about.
Ah Bing (Creator of the Bing Cherry)
Although reports vary, it is widely recognized that our modern fruit the "Bing Cherry" is named after either the direct cultivator of the fruit itself, or its inspiration, Chinese American immigrant Ah Bing.
Born in China, Bing immigrated to the U.S. around 1855. Like many Chinese immigrants Ah Bing came to the states seeking a better life and opportunities. He worked as the foreman in the Lewelling family fruit orchard in Milwaukie for around 35 years, supervising the other workers and caring for the trees. In 1889 Bing would return to China for a visit, only to be denied reentry to the United States due to restrictions from the Chinese Exclusion Act of 1882. There is some controversy as to whether or not Bing himself cultivated and cross bred the fruit, or if horticulturist, Seth Lewelling, named the cherry after Bing to honor his contributions during his time working on the orchard.
What we do know is that the bing cherry is the most popular variety of cherry in the United States, and not without good reason. They are easy and fast growing, high in anti-oxidants, reduce inflammation, and help alleviate sufferers of health issues such as gout and arthritis. Plus they are fucking delicious. Thank you Ah Bing!
The Residents of the International Hotel (Asian Rights Activists)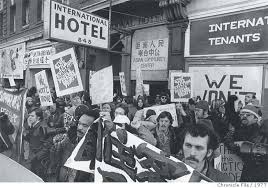 The International Hotel, or "I-Hotel" as it was commonly referred to by its residents, was a low cost residential hotel in the Manilatown district of San Francisco's Chinatown. Although housing mostly the Filipino American population, the hotel was historic in its use in the 1920s-30s as a place where thousands of seasonal Asian laborers would call home. During its history, the I-Hotel provided low cost shelter to thousands of Asian and Asian American residents chasing the American dream. Many of these residents came from low income backgrounds, meaning the I-Hotel and the community that surrounded them was all they had after long days spent laboring in jobs that provided comfort to the more privileged. During the urban renewal development of the 1960's the I-Hotel along with much of the Filmore District of San Francisco were targeted for demolition. This meant that nearly 10,000 Filipino Americans would be losing not only their homes, but the markets, restaurants, clubs, businesses, etc. that made up the community. Not to mention the thousands of Asian and non-Asian American residents who discovered a common cultural identity with the heart of this community.
The city had hoped to demolish this area without opposition in order to "modernize" the area for younger and often richer demographics. In order for them to demolish the I-Hotel, the city had to evict all the residents or "old timers" as they called them, from the hotel. However the I-Hotel Residents would not go without a fight. When the eviction notices came in 1968, the residents led by Asian American activists such as Violeta Marasigan, Jean Ishibashi, and Al Robles just to name a few, fought for nearly 10 years on behalf of the residents and their rights as not only tenants but as Americans. Protests would often involve hundreds if not thousands of people comprising not only Asian Americans, but oppressed Americans from a variety of backgrounds. This included African Americans, Mexican Americans, student activists, LGBTQ groups, community activists, and the list goes on.  The I-Hotel and the efforts of its residents are often overlooked in American history, but its impact should not be.
The I-Hotel was one of the first documented civil rights movements that unified the cache of American experiences of civil inequality into a positive movement for change.It proved that there could be strength in numbers among minority groups, and that our similarities far outweighed the differences in the fight for social and racial equality Although the building would be demolished in 1981, the I-Hotel can be viewed as a landmark case in uniting the citizens of the United States against modern oppression, the often controversial issues that gentrification may bring, and the inequalities we still face as Asian Americans.
Helen Zia (Vocal Supporter of the Asian American Struggle)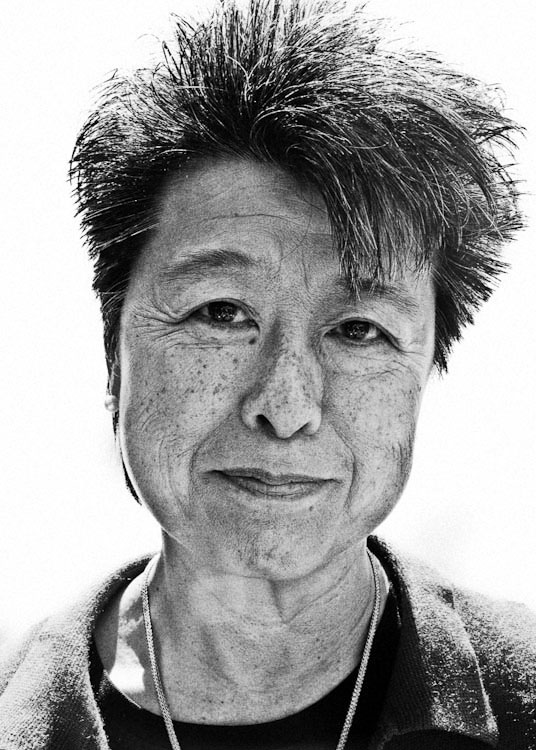 This Asian American journalist and scholar has been a leader in chronicling the Asian American experience. Through her journalism Zia has been able to express the often ignored but complex issues facing Asian American communities for decades, as well as a vocal supporter of the anti-war movement, feminism, and creating cross racial unity among low income people of color.
Through her work, Zia has brought important attention to the issues of often marginalized people despite race, gender, or social backgrounds. Her works include her book Asian American Dreams: The Emergence of an American People, a book which President Bill Clinton quoted in two separate speeches in the White House Rose Garden, editor of Ms. Magazine, as well as her coverage of issues ranging from civil rights, women's rights, and homophobia. She even testified in 1997 before the United States Commission on Civil Rights over the racial impact on news media.
Helen Zia is a true pioneer whose versatility as a journalist and scholar parallels the stories she documents on the Asian American experience. Plus she rocks a bitchin' mullet.
Bhagat Singh Thind (Fought For Our Citizenship)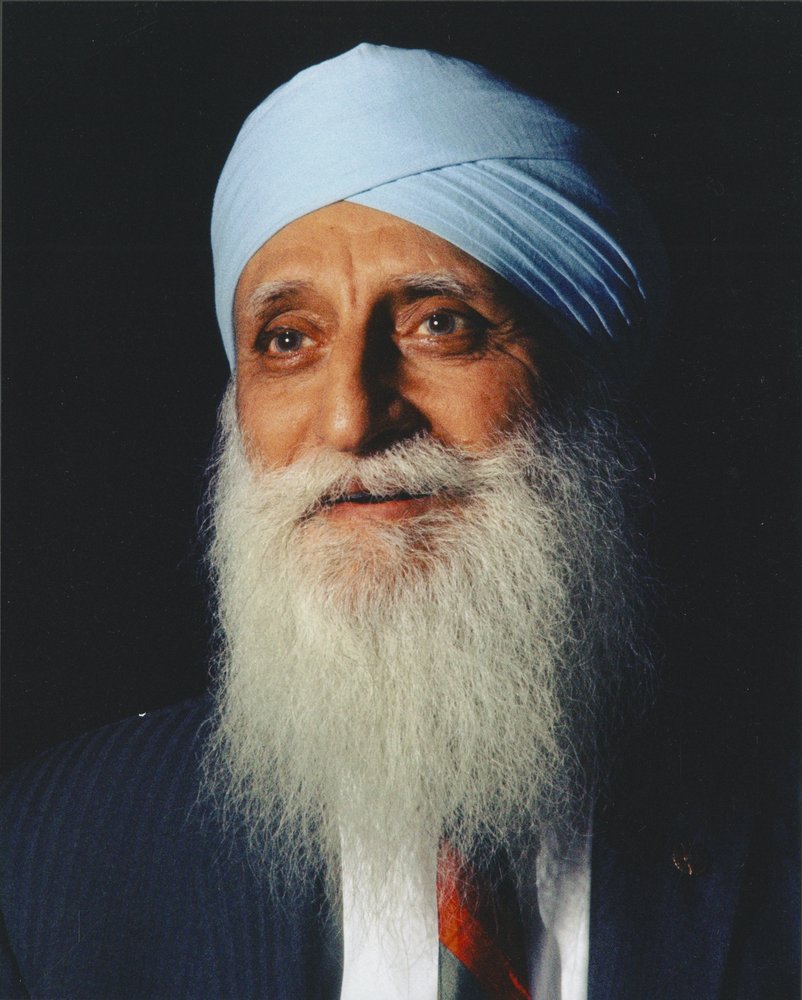 In 1923 Bhagat Singh Thind went against the United States Supreme Court to fight for his right at naturalization as a United States citizen.  Following the aftermath of the Naturalization Act of 1906, an immense wave of anti-immigration sentiment flowed through the United States' zeitgeist. Policies such as the Immigration Act of 1917, also known as the Asiatic Barred Zone Act, and California Alien Land Law Act of 1913, reflected the anti-Asian attitude bolstered by groups such as the Asiatic Exclusion League.
These acts would impede the ability for Asians to immigrate to the U.S. as well as negate the ability for Asian American immigrants to legally become full citizens of the United States.  Furthermore the Naturalization Act of 1906 often denaturalized immigrants already living or born in the United States, Asian and non-Asian alike, that prior to this act, considered to be full citizens of the United States. Laws such as the California Alien Land Law Act of 1913 exacerbated this issue by prohibiting "aliens ineligible for citizenship" from owning or possessing long term leases of land, but permitted leases up to three years. In this way those with the anti-Asian and anti-immigrant rhetoric were legally able to trap former and potential American citizens in an unbeatable amount of red tape and government bureaucracy to take their lands, their legacy, their hard work, and their rights as American citizens away indefinitely.  These laws greatly and were blatantly aimed against Asian American immigrants, and set precedent on the rights immigrants were denied in future cases.
But back to Bhagat Singh Thind, an Indian-American who was mad as hell and wasn't going to take it. United States vs. Bhagat Singh Thind basically become the catalyst in which other cases were spawned off of that questioned what it meant to be a United States citizen, and influence what if any process, would legally allow one to become citizen. His case is not without controversy however, he basically argued that he was a white guy since as a high caste Indian he belonged as a member of the Aryns and therefore was Caucasian. Nevertheless his case began debunking the arbitrary notion of what a "real" American citizen is or could be. Ultimately the court did not agree and found that no person of Indian origin could be considered or become a naturalized citizen. Fortunately in following years and generations, the notion of citizenship would be revised and many of these along with several other law acts would be repealed to provide better equality for Asian and non-Asian immigrants.  So with this case, Bhagat Sing Thind sparked the fire that would allow for all of us to become American citizens.
David Ho (AIDS research)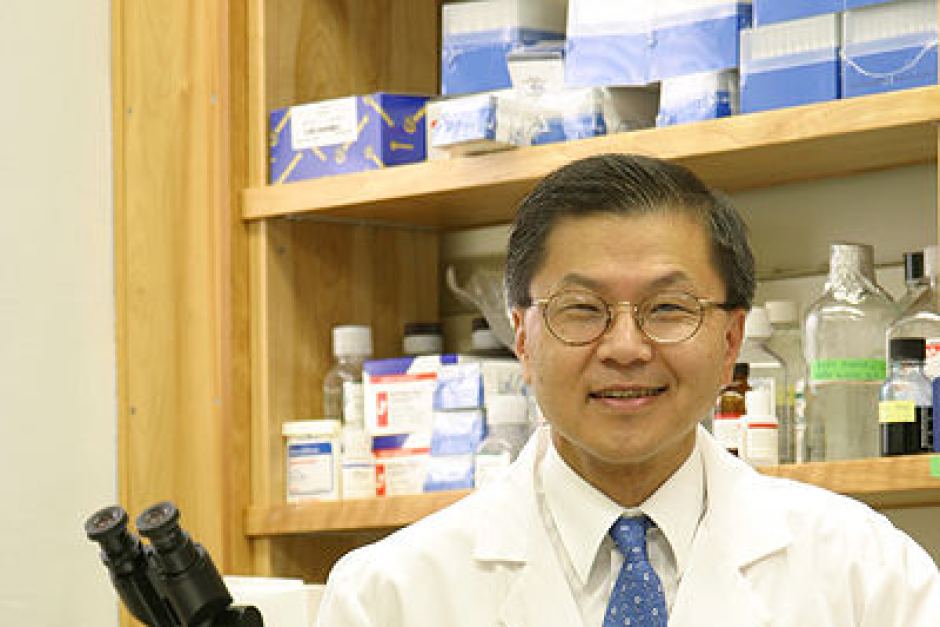 The Taiwanese-American doctor/researcher has been at the forefront of AIDS research since the first reported cases of HIV/AIDS appeared in the United States. David Ho has published over 400 papers enabling the scientific community to better understand HIV replication and is widely considered the major proponent of the AIDS "cocktail," HARRT.  HARRT, or the highly active anti-retroviral therapy used to treat HIV/AIDS patients is believed to have helped control HIV replication in patients and reduce the mortality rates of patients by SIX times since 1996. He along with his team of researchers, continue their work in developing vaccines for AIDS and better education of the treatment of AIDS worldwide. Among his many activities, he currently is the head of a consortium of organizations that addresses the HIV/AIDS crisis in China as well as an active member of the Committee of 100, a Chinese American leadership organization.
The importance of David Ho's work cannot be understated. Countless lives have been saved and the stigma of such a terrible disease has been greatly reduced thanks to his efforts. Where there was once contempt and fear, has now been replaced with compassion and hope. And although Ho was named Time Magazine's 1996 Man of the Year many are still unaware of this modest scientist's contribution.  Ask most people and they will know William Hung, the AIDS of music, more readily than David Ho. So on this day we thank you!
Vincent Chin (Made Us Fight for Our Rights)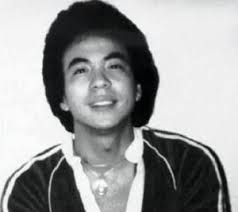 Now more than ever, it seems that with recent events such as Michael Brown and Trayvon Martin, the case of Vincent Chin should be discussed. No matter what stance you take on these highly controversial issues, the loss of life, no matter the cause, is nothing to be taken lightly. Unfortunately that was not the case for Vincent Chin, whose murder and lack of justice in handling his murders' trial became the rallying cry for the Asian American community to fight for their rights as Asian American citizens and the beginnings of the pan-ethnic Asian American movement.
Although born in Guangdong, China in 1955, Chin grew up in Oak Park, Michigan in the 1960's and by all accounts was the typical American citizen. He attended school at Oak Park High School in 1973 and was on his way to studying at the Control Data Institute.
This average American life met its tragic end when on the night of June 19, 1982 Chin was murdered. Accounts vary, but what is confirmed is that Chin was out that night celebrating his bachelor's party at the Fancy Pants Strip Club in Highland Park, an area completely surrounded by Detroit. At some point an argument broke out between Chin's party and Chrysler plant superintendent Ronald Ebens and his stepson Michael Nitz. The fight was instigated when Ebens was overheard screaming at Chin:
"It's because of you little motherfuckers that we're out of work!"
This along with racially charged insults such as "Jap," and "Nip" were allegations that referred to the recent loss of American auto manufacturing jobs to Japan, even though Chin was Chinese and not Japanese. After both parties were thrown out, Chin went to a local Mcdonald's where Ebens and Nitz would eventually track him down. Witnesses stated that although Chin tried to escape Ebens and Nitz dragged Chin into the street where they repeatedly bludgeoned Chin with a baseball bat. Chin was struck at least four times, including strikes to the head, and died in a coma four days later on June 23, 1982. Chin was 27 years old.
If the shockingly premeditated and vicious racial profiling murder of Chin were not horrific enough, the subsequent lack of justice during the trials of Ebens and Nitz were. Originally charged with manslaughter in county court, a plea bargain reduced their charge to second degree murder. No jail time was given and only $3,000 in fines and $780 in court costs were paid. Judge Kaufman, the presiding judge, was stated as saying:
"These weren't the kind of men you send to jail…you don't make the punishment fit the crime, you make the punishment fit the criminal."
Such callous and mishandling of a hate crime would not go unopposed as this trial would eventually be brought to the Supreme Court with support from such groups as the Detroit chapter of the NAACP. Ebens was even found guilty of violating Chin's civil rights and sentenced to 20 years in prison, and Nitz not guilty. However Ebens eventually would appeal the decision, and neither him nor Nitz would serve a single full day in jail.
Despite this tragic outcome of miscarriage of justice, the death of Chin did result in an outcry for civil rights to be upheld for anyone, no matter their race. The Asian American victims and civil rights movement began and the formation of the American Citizens for Justice Inc. worked to continue revealing the shortcomings of the judicial system and a racially divided society. Although the loss of life is never anything to benefit from, Asian Americans can take solace that Chin's sacrifice led to the fight for equality for all of the  citizens of the United States and continues to this day. And for that, on this day of thanks we remember Vincent Chin.
More from Blog
---
1.8K
The Nintendo Switch has been revolutionary when it comes to portable gaming. It's been such huge demand since its debut …
The Summer 2018 Issue of Amped Asia is here! It's proving to be a super hot summer, and a lot …
4.3K
Kim Mi So is a former model that was nominated for Miss Maxim in 2014 and she dropped everything and …