01-07-2008, 08:00 PM
(This post was last modified: 01-08-2008 10:43 AM by Rondillo.)
Rondillo
I AM... RONICUS!!!!


Posts: 3,456
Joined: Jul 2007
Reputation: 18
Amped Points: 7497
Broken Promise (Kara)
Broken Promise by Kara
Credits to
Karabloom.net
Hangul
------------------------------------------------------------------------------------------------------
(Lyrics by 김태윤 Composed by 김석찬 Arranged by 기세인)
널 느껴도 이젠 난 웃음이나 또 혼자인 내가 난 익숙해져
날마다 눈이 부은채 눈뜨던 나도 더 없는걸
이제는 너 아닌 사람들과 쉽게 잘 어울리고 웃기도하고
늘 너와 거닐던 길을 가도 널 보게 될까 두근대는 마음 없어
* 나 이제서야 너를 잊어 가나봐 널 생각해도 더는 눈물 안나
아프기만 했던 너의 추억들을 이젠 꺼내어 보곤해
이 세상 제일 아름다운 거짓말 영원히 너를 사랑한단 그 말
나 역시도 그 말을 끝내 다 못 지키고 너를 잊어 *
잠결에도 더는 널 찾지 않아 내 꿈에도 요즘 넌 오지 않아
툭하면 널 그려했던 못된 습관도 다 고친 걸
이제는 날 위한 많은 일로 하루가 정신없이 바쁘게 가고
너만큼 멋있는 남잘 보면 또 어느샌가 가슴 뛰는 나를 느껴
* 반복
날 떠나간 너를 원망했지만 나 역시 널 미워할 자격이 없잖아
내 사랑이 아주 조금 니 사랑보다 길었을 뿐
마지막 했던 바보 같은 거짓말 영원히 너를 기다린단 그 말
고작 이만큼만 너를 기다릴걸 그땐 이럴 줄 몰랐어
그 언젠가 또 많은 시간이 지나 너 아닌 다른 누굴 사랑해도
난 너에게 못 지킨 똑같은 그 말들을 말하겠지...
Romanized
------------------------------------------------------------------------------------------------------
(Lyrics by Kim Tae Yoon Composed by Kim Suhk Chan Arranged by Ki Se In)
neol neuggyeodo ijen nan ooseumina ddo honja-in naega nan iksookhaejyeo
nalmada nooni bu-eunchae noonddeudeon nado deo eoptneungeol
ijeneun neo anin saramdeulgwa shwipge jal eo-oorrigo ootjidohago
neul neowa geonildeon gireul gado neol boge dwilgga dugeundaeneun ma-eum eopseo
* na ijeseoya neoreul ijeo hanabwa neol saenggakhaedo deoneun noonmool anna
apeugiman haetdeon neoye chu-eokdeureul ijen ggeonae-eo bogonhae
i sesang je-il areumda-oon geojitmal yeongwonhi neoreul saranghandan geu mal
na yeokshido geu mareul ggeutnae da mot jikingo neoreul ijeo *
jamgyeoredo deoneun neol chajji anha nae ggoomedo yojeum neon oji anha
tookhamyeon neol geuryeohaetdeon motdwin seubgwando da gochin geol
ijeneun nal wihan manheun irro haruga jeongshin eopshi bappeuge gago
neomankeum meoshitneun namjal bomyeon ddo eoneusaenga gaseum ddwineun nareul neuggyeo
* repeat
nal ddeonagan neoreul wonmanghaetjiman na yeokshi neol miweohal jagyeoki eoptjanha
nae sarangi ajoo jogeum ni sarangboda gireosseul ppoon
majimak haetdeon babo gateun geojitmal yeongwonhi neoreul gidarindan geu mal
gojak imankeumman neoreul gidarilgeol geuddaen ireol jool mollasseo
geu eonjenga ddo manheun shigani jina neo anin dareun noogool saranghaedo
nan neo-ege mot jikin ddokgateun geu maldeureul malhagetji...
Translation
------------------------------------------------------------------------------------------------------
Now even though I feel you I can laugh, I'm alone again, but I'm getting used to it.
I don't wake up with swollen eyes anymore.
Now I can hang out with people who aren't you, smile and have a good time.
Even though I walk down the street we used to walk together, my heart doesn't pound yearning to see you.
* I guess I'm finally forgetting you. Even though I think of you, tears do not fall.
I will take out the painful memories of you and destroy them.
The world's most beautiful lie was when I said that I would love you forever.
I, as expected, could not keep that promise to the end and forgot you *
I don't look for you while I'm sleeping. Even in my dreams you do not enter.
I even corrected the bad habit of always missing you.
Now that I'm occupied with lots of work in my interest, a day passes quickly and fervently.
When I see a guy as cool as you, my heart thumps so soon.
* repeat
I resented you for leaving me, but I guess I don't have the right to hate you.
My love was only a little bit longer than yours was.
The dumb lie that I told you in the end was when I said that I would wait for you forever.
At the time I didn't know that I was only going to wait for you this long.
After a long time even if I come to love another person
I guess I would tell him the same promise that I could not keep with you...
---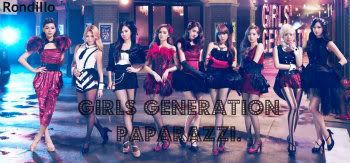 BOOM BOOM BOOM!
♡❤♡♥♡♥ Girls' Generation ♥♡♥♡❤♡
04-01-2009, 03:36 AM
adrianacx
Newbie


Posts: 46
Joined: Apr 2009
Reputation: 0
Amped Points: 106
RE: Broken Promise (Kara)
I like this song, it's like it gives a very complete description of my life, funny.
Some people live this situation and other people writes songs describing the situation.
Possibly Related Threads...
Thread:
Author
Replies:
Views:
Last Post
Kara Lyrics Index
Rondillo
2
5,353
06-25-2008 01:33 AM
Last Post: winter_frost
Promise You (Boa, Tablo, Junsu, Bora)
Pau23
5
2,019
06-23-2008 10:48 AM
Last Post: Guest
I'll Be There (Kara)
Rondillo
4
2,012
03-02-2008 12:43 PM
Last Post: vietshortee
If U Wanna (Kara)
Rondillo
6
6,407
03-02-2008 06:43 AM
Last Post: Rondillo
Break It (Kara)
Rondillo
0
1,870
01-07-2008 07:57 PM
Last Post: Rondillo
Secret World (Kara)
Rondillo
0
3,064
01-07-2008 07:52 PM
Last Post: Rondillo
Don't Be Shy (Kara)
Rondillo
0
1,318
01-07-2008 07:49 PM
Last Post: Rondillo
Us Two (Kara)
Rondillo
0
1,644
01-07-2008 07:46 PM
Last Post: Rondillo
Erase Your Tears (Kara)
Rondillo
0
2,316
01-07-2008 07:24 PM
Last Post: Rondillo







User(s) browsing this thread: 1 Guest(s)




Featured Babes on Amped Asia: Misa Campo | Elly Tran Ha | Christine Nguyen | Stephanie Ly



---