Melancholy of Haruhi Suzumiya
05-21-2007, 07:32 AM
(This post was last modified: 05-21-2007 01:30 PM by YuKai.)
YuKai
Newbie


Posts: 33
Joined: May 2007
Reputation: 0
Amped Points: 146
Melancholy of Haruhi Suzumiya
Melancholy of Haruhi Suzumiya is actually just chapter or volume 1 of the 10 chapters of series.
This anime is classified as Romance, Science fiction, and Harem.
Songs:
Bouken Bouken Deshou
Hare Hare Yukai
Characters:
Haruhi
Kyon:
Yuki:
Mikuru:
Itsuki:
Synopsis
Kyon is just your regular high schooler, and as he enters North Ridge School. He's greeted with his normal everyday middle school friends, but when he enters a classroom and hears a girl speech.
He can't but get caught into the same storm along with three other people. Haruhi Suzumiya is a girl who is interested in finding out espers, time travelers, aliens, and sliders. Because of this she brings Kyon the main character (narrator) with him, in a club called the SoS Bridage.
In reality Haruhi Suzumiya is actually a God, and she has wished for the epsers, time traveler, and aliens to come into the world. And they have without her knowing, because of this Kyon must do everything he can to please her so she won't wish for this world to collapse.
Review:
I really love this anime, because I love science fiction. And love anything out of the ordinary, this is considered an girly anime but you whether or not your a guy or a girl this will absolutley brighten up your day.
Ever heard of Haruhi-ism?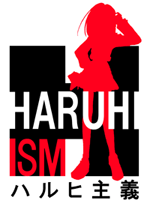 What about the song craze that is sweeping the nation of America and Japan, called Hare Hare Yukai? There's even an religion, fan club, fan web site, and organizations over this very ANIME! Thats how popular it is, it's even compared ratings to that of Naruto, Bleach, and the sorts. I totally recommend this anime not because it's so good, but because it's just one season 1. And when you're done watching the episodes, you'll die waiting for the second season to arrive.
Though I haven't watched it in a while, the episodes aren't in chronological order. So if you are watching it from a live main streaming video site, remember the order isn't correct. So watch the second episode, and go from there to see if you like it or not.
05-21-2007, 08:34 AM
lego2iori
love to be fed


Posts: 631
Joined: Sep 2006
Reputation: 1
Amped Points: 1447
RE: Melancholy of Haruhi Suzumiya
wow.. i'm gonna start episode 1 right now, just cuz you hyped me into this.. xD
05-21-2007, 01:27 PM
YuKai
Newbie


Posts: 33
Joined: May 2007
Reputation: 0
Amped Points: 146
RE:  Melancholy of Haruhi Suzumiya
lego2iori Wrote:wow.. i'm gonna start episode 1 right now, just cuz you hyped me into this.. xD
Um... I don't know the way the order goes, but the second episode is actually the first. 1 is actually 11 in chronological order, sorry for the mishap I wrote it at the bottom before.
11-29-2007, 12:25 PM
RE: Melancholy of Haruhi Suzumiya
when i first saw this i watched episode one first then episode two...that just got me confused...
but it's all good now..
why is it like that anyway?
11-29-2007, 10:07 PM
(This post was last modified: 11-29-2007 10:07 PM by VIERAN.)
VIERAN
cold_icebox


Posts: 6,386
Joined: Oct 2007
Reputation: 10
Amped Points: 15713
RE: Melancholy of Haruhi Suzumiya
so cute, looks really nice i wanted to watch it. thanks for this.
---
04-12-2008, 12:45 AM
angelico
Newbie


Posts: 16
Joined: Apr 2008
Reputation: 0
Amped Points: 34
RE: Melancholy of Haruhi Suzumiya
The characters from this anime are crazy, but you gotta like them. I like the way the episodes are done with narrating and without.
06-14-2008, 01:20 PM
aivie123
Newbie


Posts: 15
Joined: Jun 2008
Reputation: 0
Amped Points: 31
RE: Melancholy of Haruhi Suzumiya
this was an excellent anime
the animation was excellent and the story lines are surprisingly thoughtful. i really enjoyed it, always left me with a happy feeling at the end. the dubbed versions are also not that bad. actually left me wanting to watch more well dubbed anime - let's you enjoy the anime more.
07-21-2008, 07:38 PM
twilightgal
Newbie


Posts: 15
Joined: Jul 2008
Reputation: 0
Amped Points: 31
RE: Melancholy of Haruhi Suzumiya
A really crazy anime but the characters are just so addicting.Especially liked Haruhi and Yuki<Come on,you got to love them
09-06-2008, 07:59 AM
MissMaru
Newbie


Posts: 16
Joined: Sep 2008
Reputation: 0
Amped Points: 33
RE: Melancholy of Haruhi Suzumiya
I watched it a while ago, and I found it really surprising. Thinking about it againg makes want to watch it a second time
11-16-2008, 04:02 AM
kimt08
K/J-Pop lover!


Posts: 28
Joined: Nov 2008
Reputation: 0
Amped Points: 59
RE: Melancholy of Haruhi Suzumiya
saw this in my anime club and it was really good! i'll try to continue watching it sometimes soon








User(s) browsing this thread: 1 Guest(s)




Featured Babes on Amped Asia: Misa Campo | Elly Tran Ha | Christine Nguyen | Stephanie Ly



---