Watch Rain's CNN TalkAsia Interview
10-29-2009, 03:43 AM
Lance
Chancellor


Posts: 2,410
Joined: May 2006
Reputation: 19
Amped Points: 59158
Watch Rain's CNN TalkAsia Interview
---
Follow Amped Asia on Twitter
10-29-2009, 11:11 AM
vietshortee
The Maknae Mod!


Posts: 5,139
Joined: Dec 2006
Reputation: 14
Amped Points: 11470
RE: Watch Rain's CNN TalkAsia Interview
thanks for the share
lance
! eeee Rain is sooo cute haha =] there were some scenes where he just loooks like a small cute boy haha. XD.
but lol on his respond of what does he like most to do: sing, dance or act lol.
for some reason when i first saw this news i thought he would be speaking in english lol. but it was translated lol. but hm i guess we'll still have to wait a bit longer as Rain himself asked us too haha for his english XD.
but chea definitely learned more about Rain after watching this so thanks thanks for the share
lance
once again.
and ooo i think that was MBLAQ at the beginning when they showed his Asian tour Seoul: Legend of Rainism's clips!!! where he was huddling with a group saying don't be nervous! lol.
definitely can't wait for November 25th! =]
---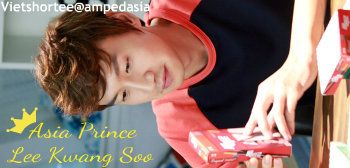 10-29-2009, 12:47 PM
Krazoom
Mr. Meanie


Posts: 3,296
Joined: Apr 2007
Reputation: 16
Amped Points: 7519
RE: Watch Rain's CNN TalkAsia Interview
Ohhh thanks Lance! I wanted to see this badly but completely forgot about it..
I'm actually really glad he didn't speak English. He still hasn't perfected the language yet so it's a big barrier. As most people who learn a second language usually only learn the basic words first his answers probably would not have sounded as eloquent had he spoken in English. That's why I wish all those damn Miss Universe contestants would take the translator! but that's another story..
I'm so glad she asked him about the double eyelid surgery! I love that Rain is one of the very few Korean stars who decided against it but I had no idea that he actually considered it!
(10-29-2009 11:11 AM)

vietshortee Wrote: there were some scenes where he just loooks like a small cute boy haha. XD.
PEDOPHILE!! lol jk jk
Oh and I can't wait for Ninja Assassin.. Just saw that they've already been airing trailers on TV
I saw one on G4 last night and was really excited..
---
♫ ♪ ♫ ♪ ♫ ♪ ♫
Cause I have sailed a 1000 ships to you,
But my messages don't seem to make it through
10-29-2009, 02:01 PM
lifesunfair1
Newbie


Posts: 31
Joined: Jun 2009
Reputation: 0
Amped Points: 64
RE: Watch Rain's CNN TalkAsia Interview
i watched the news last night..and i must say,rain is sooooooooooo hoooooot!he looks really young..im also impressed on how good he answered on all the questions asked to him..he seems quite confident..

and, oh yeah...im glad he didnt undergo plastic surgery..i mean, for me,he looks perfect...his features i think is unique..with his very chinky eyes and small and kissable lips, he really looks like a korean..(does that make sense..???)hahaha...anyway,i love that interview...
---
10-31-2009, 12:33 PM
VIERAN
cold_icebox


Posts: 6,386
Joined: Oct 2007
Reputation: 10
Amped Points: 15713
RE: Watch Rain's CNN TalkAsia Interview
thanks so much for this sir. its been a while since i havn't heard anew about rain. the interview went well and im glad a lot of what ive heard.
---
12-13-2009, 05:52 AM
visualism
Newbie


Posts: 1
Joined: Dec 2009
Reputation: 0
Amped Points: 3
RE: Watch Rain's CNN TalkAsia Interview
oh wow thats cool
12-13-2009, 10:29 PM
yeksea.dan
Newbie


Posts: 9
Joined: Nov 2007
Reputation: 0
Amped Points: 19
RE: Watch Rain's CNN TalkAsia Interview
oh! very cool
Possibly Related Threads...
Thread:
Author
Replies:
Views:
Last Post
CNN's Interview with Kim Yuna
fake_innocent
3
2,544
11-15-2010 04:01 AM
Last Post: thimothy
CNN Talk Asia's Interview with Daniel Wu
fake_innocent
1
2,511
05-22-2010 05:14 PM
Last Post: aquamizu
Charice Pempengco interview with US Magazine
fake_innocent
4
4,210
05-12-2010 03:27 AM
Last Post: kquindici
CNN Talk Asia's Interview with Epik High
fake_innocent
0
1,554
04-26-2010 04:12 PM
Last Post: fake_innocent
Wonder Girls' interview with Billboard: Breaking & Entering
fake_innocent
2
2,720
11-27-2009 10:35 AM
Last Post: jococo
Official Movie Trailer and Poster of Rain's Ninja Assassin Released
4jpz
14
3,305
08-24-2009 01:49 AM
Last Post: hi_friends
BoA's interview with Entertainment Weekly
fake_innocent
3
2,574
07-28-2009 03:50 PM
Last Post: xjuliex16x
4Minute Performs Wonder Girls? Watch "Tell Me"
Lance
4
2,283
07-04-2009 04:51 PM
Last Post: ellechar7
Report from CNN Asia: Edison Chen's Interview
fake_innocent
4
2,569
06-04-2009 07:19 AM
Last Post: 4jpz
Must Watch Scenes in "They Kiss Again"
Shin Hye
19
17,627
05-03-2009 08:24 PM
Last Post: Marithe







User(s) browsing this thread: 1 Guest(s)




Featured Babes on Amped Asia: Misa Campo | Elly Tran Ha | Christine Nguyen | Stephanie Ly



---