AmpedAsia Exclusive: Warped Tour Live Performances 2009
08-21-2009, 04:18 AM
AmpedAsia Exclusive: Warped Tour Live Performances 2009
Hey AmpedAsians!
Yesterday, I went to an event called
Vans Warped Tour 2009
with my sisters and friends. For the ones who aren't aware of what that is, it's an event where numerous bands from around the globe travel together to perform in various cities around the world. They stopped at our city as one of their tour's venue before heading off to Sacramento, CA then to San Diego, CA.
The crowds were screaming with anticipation, fans sweating in the extreme heat, booming music that could blast your ears off if you stand too close. Everyone had a blast, including me. Even though I went home early as I couldn't stand the heat, I felt honored to meet unfamiliar faces and seeing these bands performed live. It was amazing!
Surprisingly, I had the opportunity to meet Meg+Dia in person, autograph poster signed, and pictures taken.
Who is Meg+Dia?
Meg+Dia is a band of 5 people of various ethnicities from Utah, CA:
Dia Frampton: Vocals
Meg Frampton: Vocals/guitar
Nick Price: Drums
Jonathan Snyder: Bass
Carlo Gimenez: Guitar
They performed live really well and I was much surprised on how good the lead singer's singing ability. If you're wondering why Meg and Dia looks like they have Asian facial features, it's because they are Asians. Meg, Dia, and Carlo all have Asian background. Meg and Dia are half Caucasian and half Korean. If you thought Meg and Dia looks pretty in pictures, they are even prettier in person.
It would be awesome to see more Asians conquer the rock stage.
Anyhow, here's some pictures I took at the live event and have uploaded the live performance of "Monster" from Meg+Dia. My apologies for the bad quality video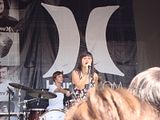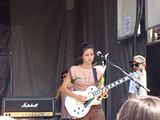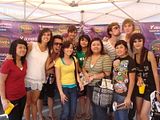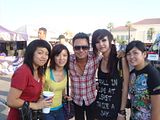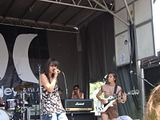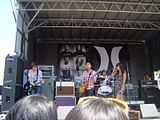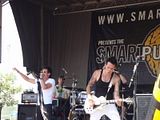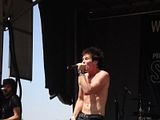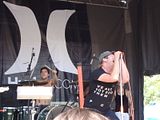 ---
08-21-2009, 10:49 AM
VIERAN
cold_icebox


Posts: 6,388
Joined: Oct 2007
Reputation: 10
Amped Points: 15711
RE: AmpedAsia Exclusive: Warped Tour Live Performances 2009
looking forward to hear them more regarding their performances in their live tour. thanks for sharing.
---
08-24-2009, 02:02 AM
hi_friends
Newbie


Posts: 10
Joined: Aug 2009
Reputation: 0
Amped Points: 21
RE: AmpedAsia Exclusive: Warped Tour Live Performances 2009
i will watch it soon
Possibly Related Threads...
Thread:
Author
Replies:
Views:
Last Post
Fahrenheit's 1st "Fantasy" World Tour Concert
vietshortee
7
6,453
08-29-2012 07:55 AM
Last Post: vietshortee
ABDC3 Champ Quest Crew Live in Manila
4jpz
3
2,483
02-05-2011 12:15 AM
Last Post: Digitel
SM world tour debut draws 35,000 fans
fake_innocent
22
4,357
10-03-2010 02:15 AM
Last Post: sarah_117
[Updated] Rain and UKiss Live in Manila!
4jpz
26
6,243
09-12-2010 02:51 PM
Last Post: asr_tdg
JJ Lin Live Chat on UStream May 27
asr_tdg
4
2,546
05-29-2010 02:05 PM
Last Post: diablofdb
Wonder Girls Announces New Album and U.S Tour
fake_innocent
5
2,329
04-08-2010 05:38 AM
Last Post: vietshortee
Fahrenheit to Release their Fantasy World Tour DVDS!!!
vietshortee
6
4,229
01-02-2010 12:24 PM
Last Post: vietshortee
Performances from Inkigayo on August 02, 2009
fake_innocent
3
1,499
08-07-2009 12:59 PM
Last Post: jackie_rockz18
Performances from Music Banks on July 31, 2009
fake_innocent
0
1,231
08-01-2009 06:39 PM
Last Post: fake_innocent
YENN says thanks to AmpedAsia!
fake_innocent
10
1,966
07-31-2009 08:11 AM
Last Post: fake_innocent







User(s) browsing this thread: 2 Guest(s)




Featured Babes on Amped Asia: Misa Campo | Elly Tran Ha | Christine Nguyen | Stephanie Ly



---