Kimora Lee Simmons Welcomes A Baby Boy
07-29-2009, 05:25 PM
Kimora Lee Simmons Welcomes A Baby Boy
A month ago of March 30, 2009 , Kimora Lee Simmons welcomed a healthy baby boy to the Lee family with her Oscar-winning boyfriend, Djimon Hounsou. Simmons decided to name the baby Kenzo Lee Hounsou. Kenzo is Simmons' third child. He joins Ming Lee, 9, and Aoki Lee, 6 ½, Kimora's daughters with Russell Simmons.
While she was still in labor, Simmon had the time to tweeter her fans that the baby was on the way.
Simmon tweeted saying,
"It's time!! No turning back! At hospital in labor right now!!," followed shortly after by, "Having contractions now! Ooo- wee! It's like WHOA! Love & Light, KLS."
She was even nice enough to show a picture of her laying on the hospital bed with all smiles before labor.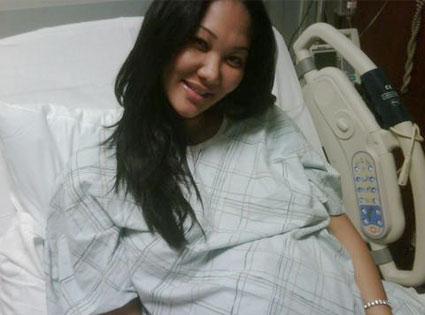 Congratulation to the both of them!
---
Possibly Related Threads...
Thread:
Author
Replies:
Views:
Last Post
Korea Welcomes Back Jay Park
vietshortee
6
4,134
06-27-2010 08:21 AM
Last Post: vietshortee
[UPDATED] Kelly Chen gives birth to a baby boy
fake_innocent
6
4,869
07-17-2009 12:18 PM
Last Post: fake_innocent
Kelly Chen Expecting A Baby Boy!
fake_innocent
3
3,197
03-22-2009 03:15 AM
Last Post: cutey_angel
Kwon Sang-woo and Son Tae-Yeong's New Baby Boy!
fake_innocent
7
6,193
03-06-2009 06:47 AM
Last Post: GabriellaKong
Leah Dizon Shows Off Her Baby Bump
fake_innocent
5
5,817
02-12-2009 01:50 PM
Last Post: fake_innocent
Big Bang's Strong Baby Initially for Female Big Bang
4jpz
13
3,762
01-06-2009 10:38 PM
Last Post: 4jpz
Baby V.O.X's Back!
Hollinaz
0
2,539
07-24-2008 04:31 PM
Last Post: Hollinaz
Cecilia Cheung Takes Baby Lucas Shopping
fake_innocent
5
4,524
06-17-2008 05:59 AM
Last Post: typicalxdork
Baby Matthew Grown Into A Handsome Little Boy!
fake_innocent
3
5,632
06-17-2008 05:55 AM
Last Post: typicalxdork
Journey Welcomes Arnel Pineda
4jpz
3
2,279
12-29-2007 04:44 PM
Last Post: ivory







User(s) browsing this thread: 1 Guest(s)




Featured Babes on Amped Asia: Misa Campo | Elly Tran Ha | Christine Nguyen | Stephanie Ly



---