Thread Review (Newest First)
Posted by ricca_ph - 08-30-2008 12:04 AM
Can I also download the original song which was sung by Top Suzara?
Posted by LkbDcb - 07-11-2008 04:57 PM
yeah sabihin mo na..
how many people have sung this? really
Posted by VIERAN - 06-12-2008 06:44 PM
i like this revival song, and im also looking forward to download this album here in AA.
Posted by 4jpz - 05-22-2008 02:03 AM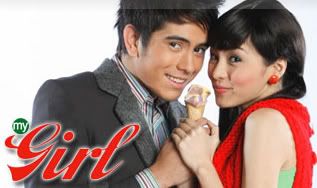 Info

:
Song Title:

Sabihin Mo Na


English Translation:

Just say...

|

Why Don't You Tell Me



Sang by:

Top Suzara

for the original My Girl, the Korean series. For the Philippine's My Girl, it is sang by

Yeng Constantino

.

Cast:


Kim Chiu

as Jasmine (Joo Yoo Rin)


Gerald Anderson

as Julian (Seol Gong Chan)


Enchong Dee

as Nico (Seo Jung Woo)


Nina Jose

as Anika (Kim Seo Hyun)



Yeng Constantino singing "Sabihin Mo Na" at ASAP '08
Video credit: ASAP and abscbn

Kim Chiu and Gerald Anderson singing My Girl Theme Song "Sabihin Mo Na"
and Hana Kimi/My Girl Theme Song "Crazy Love"

:

http://youtube.com/watch?v=9fxWxqRv1ks

Filipino Lyrics


Gusto kong magpaliwanag sa iyo
Ngunit 'di kinakausap
Di ko inaasahang diringgin mo
Nakatingala sa ulap

Alam kong nasaktan na naman kita
Ngunit 'di ko naman sinasadya
Hinding-hindi na mauulit, sinta
Sana'y maniwala ka

Chorus:
Sabihin mo na
Kung anong gusto mo
Kahit ano'y gagawin
Para lamang sa 'yo
Sabihin mo na
Papaano mo mapapatawad

Ilang araw ng hindi pinapansin
Ilang araw pang lilipas
Nakatanga sa harapan ng salamin
Naghihintay ng bawat bukas

Lahat naman tayo'y nagkakamali
Sinong 'di magsasala
Ngunit papaano babawi sa pagkakamali
Yun ang mahalaga

Chorus:
Sabihin mo na
Kung anong gusto mo
Kahit ano'y gagawin
Para lamang sa 'yo
Sabihin mo na
Papaano mo mapapatawad

Bridge:
Patawarin mo sana, sinta
Di ko sinasadya

Chorus:
Sabihin mo na
Kung anong gusto mo
Kahit ano'y gagawin
Para lamang sa 'yo
Sabihin mo na
Papaano mo mapapatawad


I want to explain to you
But you're not talking to me
I'm not sure if you're going to listen
Looking up at the clouds

I know that I've hurt you again
But I didn't mean it
It will never happen again, my love
I hope you'll believe

Chorus:
Just tell me
Whatever it is that you want
Whatever I do
It's all for you
Just tell me
How will you forgive

You've been ignoring me for days
More day will pass by
Daydreaming in front of the mirror
Waiting for every tomorrow

We all make mistakes
Who doesn't commit sins
But how will one recover from mistakes
Is what matters the most

Chorus:
Just tell me
Whatever it is that you want
Whatever I do
It's all for you
Just tell me
How will you forgive

Bridge:
Please forgive me, my love
I never meant this

Chorus:
Just tell me
Whatever it is that you want
Whatever I do
It's all for you
Just tell me
How will you forgive



Featured Babes on Amped Asia: Misa Campo | Elly Tran Ha | Christine Nguyen | Stephanie Ly



---