Aya Kamiki

Date of Birth: 9/10/1985

Birthplace: Sapporo, Hokkaido, Japan

Ethnicity: Japanese

Rating

84%
Biography
No she's not your everyday J-pop singer, in fact, Aya Kamiki is a bonafide J-rocker. Her interest in music began at a very early age. When she was four years old she learned to play the piano. She started singing in junior high, and she added the guitar to her repertoire shortly after.

She had always been influenced by the punk/rock style, which is the reason she decided to become a J-rock artist. She first signed on with some relatively unknown independent record labels such as FLME and then WEED. She released a few singles and albums with these independent labels.

It wasn't until 2006 that Aya Kamiki signed with GIZA studio, one of the bigger music labels in Japan. In 2006 she released an album entitled Secret Code.
Videos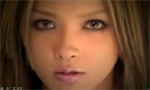 Aya Kamiki's PV for her single Pierrot. Pierrot is one of her most famous songs.
Format
: Flash
Watch Video
Discuss Aya Kamiki