UPDATE! Check out our new feature with Donnah Pham!
Donnah Pham is currently one of the most sought after import models in the scene. Although she lives in Canada, we recently got a chance to interview her when she came to visit us in Texas. We talked about her modeling career, the traits she likes in a man, and other various interesting tidbits!
She was so good in fact, that we had to feature her as our September 2013 cover model. Make sure to check out the free issue to see more pictures of the gorgeous Donnah Pham.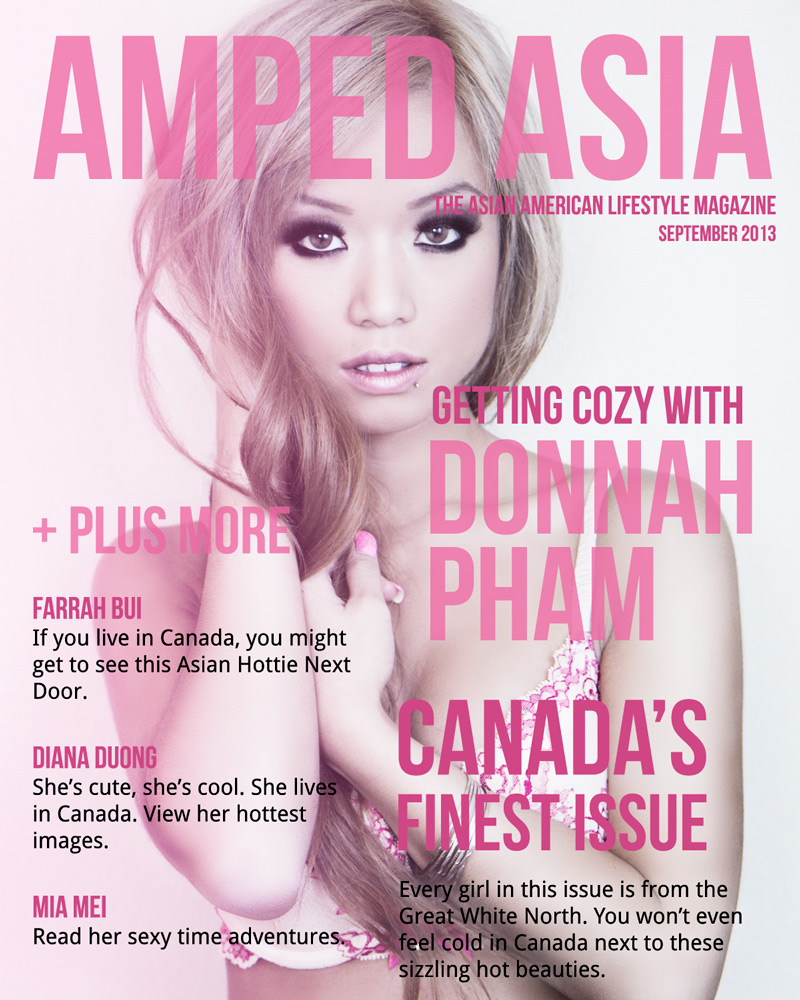 Oh yeah, make sure to check out her super sexy video below.
What is your ethnicity?
I am Vietnamese and also have a quarter French in me.
How did you begin modeling?
I started about a year ago. My friend had a cousin who wanted to do a photoshoot with me, and then I started going to a lot of photoshoots. I eventually got discovered in Toronto and then flew back and forth from there to Winnipeg.
What's a typical day like for you?
My parents own a nail salon, so I usually help a bit. Then I do my own nails. Then I just go home and rest. I'm on summer break right now, but usually I go to school, which starts in 2 weeks. I'm at the University of Manitoba.
What are your hobbies?
I dance with a Vietnamese cultural association. So I practice and do events for that.
How serious are you about modeling?
I really want to get further in modeling. It's a dream I've had for a while.
What styles do you usually model?
Usually lingerie. Sometimes fashion, but it's really different. I have to do weird positions. Like "zombie position."
Currently are you taken or single?
I am happily taken!
What are the traits that you like in a man?
Someone who can make me laugh for sure. Someone who's like me, someone who has similar traits. I like a bigger guy. I'm super small so a lot of guys are bigger than me. I like muscles.
What are your biggest turn-ons and turn-offs?
For turn-offs, if you aren't clean and you're dirty. And for turn-ons just if you're good looking!
Any final message?
I love you guys in Texas, ya'll are awesome. Thanks for the support.
Where can we catch you online?
You can find me on Facebook, Tumblr, and Twitter.
Read the FULL INTERVIEW IN HER COVER ISSUE.
You might also like
---
More from Asian Babes
---
2.7K
Ready to meet Julie Meka? The amazingly gorgeous model from Las Vegas has an unreal body, and a really cute …
4.2K
A new face that we haven't seen much of here in the States, Maria Zen is a girl that we …
4.4K
Lilly is this not so average girl that is just a literal ball of energy with highlights of the goofy/geeky …